Word Search is an online game hosted on Nick.com. It is entirely based on the word game of the same name.
Objective
Wordbending skills are put to the test as the player scans a jumble of letters in search for the words hidden within.
Controls
The left mouse click is used to choose letters by clicking on the first and last letters of a word.
Instructions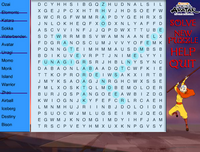 Once the game has begun, the player will notice a column of words to the left of the screen and jumble of letters taking up the rest. There are sixteen words that the player must find hidden in each puzzle. These words are strewn about randomly throughout the board and can be written out left-to-right, up-and-down, diagonally, backward, etc. Once a puzzle has been completed by finding all of the words, a new puzzle begins with different or rearranged words.
There are menu options to be considered during the game, as well. The Solve option reveals all of the hidden words in the puzzle; the New Puzzle option resets the game and sets out a new puzzle; the Help option reveals a brief how to play; and Quit navigates the player to the Nick.com website.
Words
The words that appear in Word Search are:
See also
Hangman, a similar Nickelodeon Internet game based on a real-world classic
External links