This article is about the game. For the episode, see "Welcome to Republic City".
Welcome to Republic City is an interactive online game consisting of a virtual tour of Republic City while important locations and elements are being described.
Description
Explore the bustlin' metropolis that Avatar Aang and Fire Lord Zuko built. Welcome to Republic City!
Objective
The player makes their way around the various locations of Republic City, locating details about the city and also characters in The Legend of Korra. To progress through the city, there are also small tasks for the player to complete.
Instructions
Left mouse click: Navigate and interact with menu and objects.
Features
Information on different creatures, objects, and people can be unlocked by visiting and exploring the multiple locations. All locations have been unlocked.
Locations visited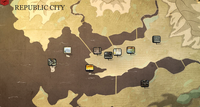 Downtown Republic City
Aang Memorial Island
People
Objects
Air Temple Island
People
Objects
Creatures
City Hall
People
Objects
History Books: Origins of the Harmony Restoration Movement
History Books: Rise of the Resistance
History Books: Shifting Allegiances
History Books: A Turning Point
Central City Station
People
Objects
Future Industries
People
Objects
Creatures
Republic City Park
People
Objects
Creatures
Police headquarters
People
Objects
Toph's statue
Police vehicles
Creatures
Downtown Republic City
People
Objects
Pro-bending Arena
People
Objects
Creatures
See also
External links