"What if I meet our grandma for the very first time, and she asks me [Imitating an old woman.] "Where's your sweet brother?" and I have to say "I'm sorry, Grandma, he had some really important police paperwork to file" and she starts to cry those grandma tears, and is like [Imitates his grandmother again and grabs Mako's shoulders.] "Mako! Why? Why? I can't go on, I ca--" [Suddenly changes back to his normal voice.] and then she dies."

— Bolin to Mako in Rebirth
"He's an earthbender, right? Rocky. You know, because of all the rocks."

— Sokka trying to guess Bumi's name
"What would Uncle do? [Imitating Iroh.] Zuko, you have to look within yourself to save yourself from your other self. Only then will your true self, reveal itself."

— Zuko imitating Iroh
Zaca

tero

•

(Wall)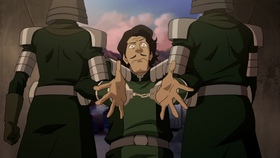 Zacatero
Biographical information
| | |
| --- | --- |
| Alternative name(s) | Max (it's my name lol) |
| | |
| --- | --- |
| Time zone | Eastern Time - 19:24, November 25, 2020 (Wednesday) (Purge) |
Physical description
Personal information
Favorite episode(s)

ATLA

TLOK
Chronological and political information
User rights

Normal user: (June 3rd, 2020 - July 1st, 2020)
Rollback: (July 1st, 2020 - present)
Community Council: (October 26th, 2020 - Present)
Assorted Userboxes
| | |
| --- | --- |
| | This user honestly would want to work for Varrick . |
| | |
| --- | --- |
| | This user dislikes Mako because of everything he does. |
| | |
| --- | --- |
| | This user wonders what would've happened if Azula was crowned Fire Lord. |
Regular:
Reverting Vandalism:
Hello! I am not a regular contributor of this wiki. I likely came by to revert vandalism that I saw either through the Fandom bot relay or other sources. Feel free to visit my central message wall if you have any questions or comments.
About Me  Report Spam & Vandalism
Babel  My Main Wikis

Back
es-1
Este usuario puede contribuir con un nivel

básico

de

español
Back
Community content is available under
CC-BY-SA
unless otherwise noted.