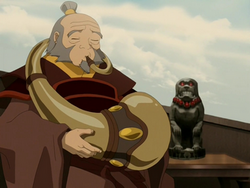 The tsungi horn is a musical instrument used in the traditional music of the four nations. The curved and highly polished horn is cast from metal, and is believed to have originated in the Fire Nation.[1]
Musicians
Connection
The real life counterparts in terms of appearance to the tsungi horn are the sousaphone and the French horn. The Track Team created the instrument's unique sound by superimposing characteristics of the trombone to the duduk,[7] a double reed instrument from Armenia, through a process called convolution.
Trivia
The musical instrument is sometimes heard in the score during the series, usually when Team Avatar is in sudden danger, such as when they stole the waterbending scroll from the pirate ship boutique,[8] any time the Blue Spirit appears, and most often during Zuko's themes.
The tsungi horn appears on the show more often than any other instrument.
References
See also
Community content is available under
CC-BY-SA
unless otherwise noted.