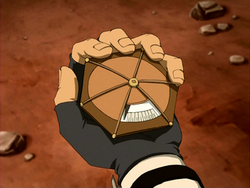 The timing device was developed by the mechanist for the invasion of the Fire Nation during the Day of Black Sun.[1]
History
The timing device was given to Sokka as a way to keep track of the amount of time before and during the eclipse, and was frequently used to observe the length of time passed.[2]
Design
The timing device is a small, hexagonal handheld object similar in appearance to a timer. The mechanism is divided into six sections by six metal pins, with one of the sections having an open compartment consisting of a needle and a series of notches used to calculate elapsed time. The timing device is a mechanical apparatus that is initiated when the user winds it using a little key that is inserted in the square hole at the center of the device.[1]
References
See also