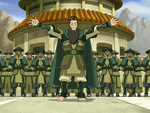 Welcome to Avatar Wiki! Thanks for your edit to Earthbending, and for joining our community! There's a lot to do around here, so we hope you'll stay with us and make many more improvements.
Wiki Activity is a great first stop, because you can see what pages other people have been editing.
Questions? Need help? Don't know what to do? See if S.O.S. editing can help you, or just leave me a message!
Have an opinion? Read the latest blog posts and meet other knowledgeable fans. Discuss the series and the movie to a depth that you'd have never imagined.
Like fan fiction? Visit our fanon portal. You can read the quality works of others. You can even write your own, and share your stories with all the readers here.
Follow our policies, to make sure that all of us get along harmoniously.
Sign in every time you edit, so that we can recognize you.
Sign your comments by typing ~~~~ when posting on one of our forum threads. This adds your signature and the date, so we know who's talking!
We're really happy to have you here, and look forward to working with you! Have fun!