This article is about the episode. For the location, see Western Air Temple.
"All I want now is to play my part in ending this war, and I know my destiny is to help you restore balance to the world."

— Zuko pledging his loyalty to Aang.
"The Western Air Temple" is the 12th episode of Book Three: Fire of Avatar: The Last Airbender and the 52nd of the overall series. It debuted on July 14, 2008.
Overview
Zuko follows Aang and his friends to the Western Air Temple, seeking to join their group. There, he desperately tries to prove to them that he has changed for the better. It is only after Zuko helps save them from Combustion Man that he receives their acceptance as Aang's firebending teacher. However, Katara remains doubtful of Zuko's transformation to good and warns him of the consequences of any treachery that he might execute.
Synopsis
After a sore defeat in the Fire Nation on the Day of Black Sun, the elders of the invasion force are now prisoners and the gang travels to the Western Air Temple for refuge. Appa becomes tired from carrying so many people, so they have to walk on foot. When they reach a cliff that descends into a misty canyon below, Toph exclaims that they have arrived at the temple, though no one else sees it. Aang realizes they have indeed arrived, as the temple is built on the underside of the cliff. Even Toph, who remained impassive at every other impressive or unusual thing the team has encountered beforehand, is amazed at the temple.
Meanwhile, Zuko, who had followed the group from the invasion in his war balloon, arrives first and descends into the temple. He remembers the last time he had been to the Western Air Temple, a week after his banishment; in a flashback, the banished Prince, freshly burned and bandaged, proclaimed that he would scour the world for the Avatar for the rest of his life. He called his uncle Iroh lazy when he suggested that he rest. Ashamed of the memory, his lament is cut short as he sees Appa fly overhead. Zuko runs off to hide, making camp near the temple in a wooded area, and later practices to a badgerfrog his speech to convince Team Avatar to accept him as Aang's firebending teacher.
While Teo, Haru, and The Duke explore the temple, the gang discusses the next course of action now that the invasion failed. Sokka suggests that since the attempt at a shorter route to winning the war has failed they revert to their old plan of Aang mastering all four elements and facing Fire Lord Ozai before Sozin's Comet arrives. Aang is less than thrilled at the idea, remarking that they do not even know where to find a firebending teacher. Katara suggests looking for Jeong Jeong, however Aang doubts they will ever see him again. Thinking it is hopeless for the moment, he uses this as an excuse to run off and fly around the temple. Sokka and Katara ponder the obvious dilemma; who in the world will they be able to find to teach Aang firebending?
The scene fades to Zuko, who is practicing what to say to the gang to convince them he is now on their side, his audience being an impassive badgerfrog. Realising that this will get him nowhere, Zuko tries a different tack by wondering what Iroh would do. Mimicking his uncle's hoarse voice, Zuko rambles about looking within himself to save himself, but finds he doesn't understand his mystical uncle even when pretending to be him. He then switches to Azula, but quickly accepts that threatening to "do something unspeakably horrible" to Aang and his friends will not get him far.
As Aang explores the temple on his glider, the others follow him on Appa, trying to convince him to stop and continue the discussion. They land and find that Zuko has appeared before them.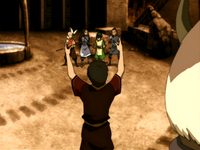 As Zuko tries to introduce himself politely, the group prepares to attack him and refuses to put trust in anything he say. Appa, on the other hand, happily greets Zuko by licking his face, much to Aang's surprise. Zuko tries to explain that he has changed for the better and wants to teach Aang firebending. Sokka and Katara continue to point out his wrongdoings such as attacking their villains and stealing Katara's necklace, causing Zuko apologizes anxiously. To try and get on their good side, Zuko reveals that it was he who freed Appa from his imprisonment in Ba Sing Se, but no one except Toph believes him. As Zuko continues to apologize, he accidentally reveals he was the one who hired Combustion Man to kill them. Hearing this, the gang resolutely refuses to allow Zuko into their group, threatening to attack if he does not leave immediately. Zuko tries to offer himself as a prisoner, however Katara attacks him with waterbending and tells him never to come back.
Back at his camp, Zuko laments over how terribly things went over, while at the temple, Sokka and Katara ponder Zuko's motives, ultimately deciding that he cannot be trusted. Aang has more trouble supporting their conclusion, as he recalls the time Zuko risked his life as the Blue Spirit to rescue him from Zhao. Katara refuses to believe that Zuko saved him out of compassion but rather did so for his own benefit. Toph interjects, however, that she sensed Zuko was being sincere and honest the whole time and believes the others are letting their hurt feelings affect their judgment. The others quickly dismiss her statement by noting that she simply does not know what it was like to be constantly chased and attacked by Zuko. Acknowledging that fact, Toph still points out that Aang needs a firebending teacher, though Aang adamantly refuses to accept Zuko. Frustrated at the group's continued prejudice, Toph leaves the temple but not before saying that she wonders who is really the blind one in the team.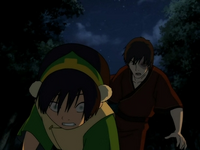 While sleeping in his tent, Zuko hears someone coming through the bushes. It turns out to be Toph, but unable to see in the darkness, Zuko immediately firebends at the intruder. Toph tries to defend herself, but the soles of her feet are burned as she steps back. Zuko realizes who she is and apologizes, pleading with her to come back. Completely blind, Toph scurries away on her hands and knees in fear; Zuko tries to help her, but she pushes him away with earthbending. As soon as she departs, Zuko shouts in frustration, "Why am I so bad at being good?!"
The next morning the group wonders about Toph's whereabouts. She earthbends through the wall of the cliff, falling to the ground as she attempts to keep her feet in the air. She admits that she went to visit Zuko the previous night, resulting in his burning her. As Katara begins to heal her feet, Toph explains it was sort of an accident. The gang ignores this and calls Zuko a serious threat.
Unbeknownst to them, Combustion Man appears on a higher ledge of the temple and prepares to attack the group. Zuko arrives and prevents him from getting a clear shot at the gang, redirecting his attack and alarming the others below. They find cover while Zuko tries to prevent the assassin from attacking them further. Zuko's plea to call off the hit on the Avatar causes Aang to take back his refusal of Zuko. Combustion Man instead turns on Zuko and blasts him over the edge of the temple, though he manages to grab hold of a vine below just in time. Aang and Katara use their bending to counterattack Combustion Man; however, their lower position leaves them at a severe disadvantage against him and his barrage of explosions. Unable to get a direct line on them, Combustion Man instead changes tactics and begins targeting the pillars attaching the structure Team Avatar is on to the underside of the cliff above; Toph realizes that he intends to blast the entire building off the cliffside.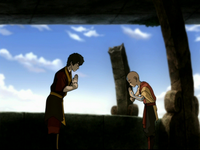 Form behind cover, Katara notes that she cannot attack without exposing herself, nor can she get a good angle from the low ground. Inspired by the mention of angles, Sokka estimates Combustion Man's position based on the angles at which the next two straight-line attacks are coming from. Sokka throws his boomerang, curving it around a corner, where it hits the Combustion Man square on his forehead tattoo and knocks him off his feet when he turns towards the sound coming at him, blocking his chi and leaving him disoriented. Sokka is disappointed when the assassin manages to get back up, and they hurry back to cover. Combustion Man tries another attack, but his blocked chi instead causes the very air around him to explode violently, also causing the lower half of the structure he was standing on to detach from the rest and plummet into the misty canyon below. The only thing left of Combustion Man is his metal arm, which falls spinning into the depths as well.
Aang thanks Zuko for saving them and Zuko tries, more confidently, to reconcile his past meeting with the group. He admits that he was wrong and says he has learned from his banishment that he must earn his honor by doing the right thing. He tells them he wants to play his part in ending the Hundred Year War, and that his destiny is to help Aang restore balance to the world. He apologizes for burning Toph, stating that fire is a dangerous and wild element and that he must control his bending so that he does not hurt others unintentionally again. Reminded of his own firebending experience that burned Katara, Aang decides to accept Zuko into the group as his teacher, but only if the others agree. Toph says playfully that she accepts Zuko so that she can get back at him for burning her feet, while Sokka accepts him only to help their plan of defeating the Fire Lord. Katara reluctantly agrees, only because it is what Aang believes is right. Zuko enthusiastically promises not to let the group down.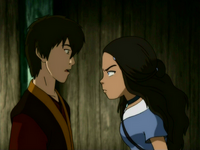 Sokka awkwardly leads Zuko into a room for the ex-prince to use, where the latter unpacks his belongings. Sokka comments to Aang how weird it is having Zuko around. Settled down, Zuko takes out a picture of Iroh and fondly remembers his uncle's advice about destiny. Immediately afterward, Katara appears in the doorway and confronts Zuko. She warns him that while he may have the others convinced, they both know this is not the first time he has struggled to do the right thing. She makes a very clear threat: should Zuko show any act of treachery, make any mistake, or give her any reason to make her think he would hurt Aang, she will not hesitate to take his life. She departs, leaving a visibly disturbed Zuko alone to ponder her threatening words.
Credits
Production notes
Transcript
Main article: Transcript:The Western Air Temple
Main article: Transcript:The Western Air Temple (commentary)
Avatar Extras
Main article: Avatar Extras for Book Three: Fire
Series continuity
Goofs
Trivia
References