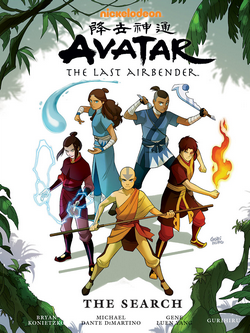 The Search is a graphic novel trilogy set one year after the events of The Promise[1] and preceding those detailed in The Rift. Written by Gene Luen Yang with Michael Dante DiMartino and Bryan Konietzko, the trilogy was released in three separate installments by Dark Horse Comics in collaboration with Nickelodeon throughout 2013. The story focuses on Zuko and Azula as they search for their mother, Ursa, with Team Avatar accompanying them to keep the mentally unstable princess in check.
The Search trilogy includes:
Library Edition
A compilation of the three novels, Avatar: The Last Airbender—The Search Library Edition HC, was released on February 5, 2014. In contrast to The Promise Library Edition, this re-release version of the trilogy features page-by-page sidebar commentary not only by Gene Yang and the Gurihiru team, but also by series co-creator Mike DiMartino. Notable trivia from The Search Library Edition that pertains in particular to the production of each respective novel can be found at:
Trivia
References
See also
Community content is available under
CC-BY-SA
unless otherwise noted.