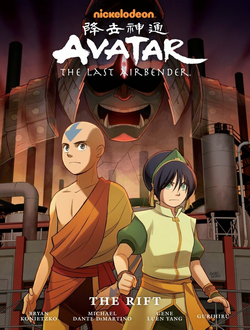 The Rift is a trilogy of comic books set in the Avatar universe, continuing the storyline established in The Search, which was itself a continuation of The Promise. As with its two predecessors, The Rift is written by award-winning comic author Gene Luen Yang, illustrated by Gurihiru, and published by Dark Horse Comics. The first book in the series was released on March 5, 2014, with the second released on July 2. The third part was released in comic book stores on November 5 and in regular stores on November 18. The hardcover edition was released in comic stores on February 11, 2015, and to regular stores on February 24. The Rift trilogy includes:
Plot
With the situation in Yu Dao stabilized, Avatar Aang tries to revive Yangchen's Festival with the help of his friends and three Air Acolytes, Xing Ying, Yee-Li, and Jingbo, after experiencing a vision of Yangchen in which he was unable to hear her. Upon discovering that an Earthen Fire Refinery has been built on previously sacred Air Nomad lands, Aang needs to find a way to communicate with his predecessor and prevent an ancient spirit from exacting revenge against humanity. Meanwhile, Toph confronts her father, Lao, and finds herself at odds with Aang's conservative nature.
See also
Community content is available under
CC-BY-SA
unless otherwise noted.