This article is about the board game, for the location in The Legend of Korra television series, see Pro-bending Arena.
The Legend of Korra: Pro-Bending Arena is an upcoming board game from IDW Games set in the Avatar universe during the events surrounding the Pro-Bending Championship Tournament in Book One: Air. A miniatures board game designed by Sen Foong-Lim and Jessey Wright, The Legend of Korra: Pro-bending Arena pits 2 players against each other in a sports game that features deep, strategic, head-to-head gameplay, highly detailed and dynamic miniatures, deck crafting and building, and team customization.[1] There are two versions of the game: one being the core game, featuring the Future Industries Fire Ferrets and the White Falls Wolfbats, and a deluxe version which features more components and more teams, such as the Red Sands Rabaroos and the Black Quarry Boar-q-pines.
The game was launched through a Kickstarter campaign set for 15 days, which launched on September 13, 2017. The campaign was fully funded on its first day and currently sits at more than five times its initial fundraising goal of $20,000. The core game will cost fifty dollars while the Deluxe Edition of the game will cost sixty-five dollars. In addition, there is an expansion pack for the game titled "Amon's Invasion," which is available for a thirty dollar addition onto the initial game.[1]
Gameplay
The gameplay is closely modeled after the Pro-bending sport featured in Book One: Air. As such, the game is designed for 2 players, each controlling a team of 3 benders: earth, fire and water.
Each player receives a board based on their team with three trick cards and three decks of technique cards, called strategy decks, for each bender on their team. Players can also customize their strategy decks before the game begins to choose which technique cards they will have access to during the game.
On a turn, players will have three moves, one for each bender. For each move, a player can use a technique card, a trick card or focus their chi, which will make the bender able to perform a higher leveled technique. At the end of a player's turn, the player can spend the collected chi and purchase new technique cards from their strategy decks, each one separated by their bender's elements; this also enables the player to strengthen their strategy decks.[1]
Technique Cards
Players can use technique cards to place bending tokens in the same lane as another player's benders. Any bender who has more offensive tokens than corresponding defensive tokens will move one section backwards. If the game ends while one player has all of their benders in another player's territory, the player occupying their opponent's territory is the victor. Alternatively, if a player pushes all three of their opponent's benders off of the back of the board, that team wins instantly.[1]
Trick Cards
Each player has three trick cards, one for each bender on their team. These trick cards have differing skills on them with differing numbers of times they can be used. As using these tricks are technically considered "cheating", each time a player uses a trick card, they have to roll a referee die to see if they were caught. If the die lands on a fan, the bender who used the trick card receives a yellow fan. If a bender receives a yellow fan twice, they are removed from the game.
Tricks allow players to supercharge their attacks, escape incoming barrages of elements, or even make their benders impervious to being pushed back. Deciding which tricks to take, and whether or not they're the risky yellow-fan cheats or one-time powerful tricks allows players to make a team their own.[1]
Expansions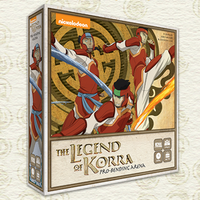 Deluxe Edition
The Deluxe Edition of the board game can be purchased through the Kickstarter campaign and comes with additional items. By playing this edition, players will have a bigger range of possibilities for drafting teams and shaping the game experience.
Additional teams will expand the options for players they can use during the game. Each team will have their own unique special abilitiy and strategy decks plus six universal trick cards that can be used by any team in the game.[1]

Fantasy Draft
By purchasing the Deluxe Edition of the game, players can add more teams with their own packs of items to the core game, allowing them to play in another game mode. In this variant, players can mix and match members from the teams and are able to combine two powerful special abilities into a stronger play. When missing team members, all members still get their specific special ability, triggered by their technique cards. This can allow for super power combinations that will have Fire Ferret team members counter-bending elements alongside Wolfbats, dazing the opposition with illegal techniques.[1]
Amon Expansion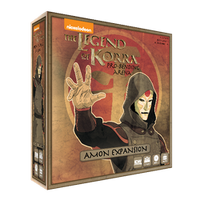 Amon's Invasion is an Amon-themed expansion pack is a thirty-dollar expansion pack for The Legend of Korra: Pro-bending Arena. This comes with two additional solo-bender teams, as well as a unique co-op gameplay mode.[1]
And the Winner is…
Named for the episode of The Legend of Korra in which the equalists appear at the Pro-bending Arena, two players will work cooperatively to defeat Amon and the equalists. Each player controls two benders on a team (or one solo bender team) against a deck of Amon and equalist cards. Each turn players will flip over a card at the end of each round to discover what the equalists do: which bender they attack, what kind of attack they do, etc. In addition, Amon also has his own deck of cards which get stronger as he takes damage. In this timed version of the game, players remove technique cards as they take damage and rush to push Amon off the Pro-bending Arena before it explodes.[1]
Teams
White Falls Wolfbats
Members
Special ability
Daze: Players choose one bender in a space targeted by an attack that isn't already dazed, and place a daze token in their status area. A dazed bender ignores the first ability or attack on the next action they take. The token is returned to the supply after the dazed bender performs an action.[1]
Future Industries Fire Ferrets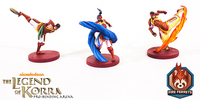 Members
Special ability
Counter-bend: This special ability relies on chi. Once they have enough chi, Fire Ferrets are able to redirect overly aggressive plays back against their opponents by taking the opponents' element tokens and adding them as part of the player's attack.[1]
Red Sands Rabaroos
This team is exclusive to the deluxe version of The Legend of Korra: Pro-bending Arena.
Members
Adi (captain; firebender)
Ula (earthbender)
Umi (waterbender)
Special ability
Rally and Blitz: These are twin icons that can be used in the game by activating Rally and gaining Rally tokens that can be placed on the team board. In order to activate Blitz, the player must spend two Rally tokens which will then be removed from the team board. Blitz allows the player to draw the top card of the main deck and launch an additional action.[1]
Black Quarry Boar-q-pines
This team is exclusive to the deluxe version of The Legend of Korra: Pro-bending Arena.
Members
Chang (captain; earthbender)
Shui (waterbender)
Xin (firebender)
Special ability
Pressure: Players can place pressure tokens on a space targeted by an attack. When an opposing bender is hit with an attack in this space, they suffer twice as much damage as they normally would, four times as many if there are two pressure tokens, and so on.[1]
Red Lotus
This team is exclusive to the deluxe version of The Legend of Korra: Pro-bending Arena.
Members
P'Li (only member; combustionbender)
Special ability
Combustion-bending: Players place a combustion token in any space on the board. Each time a bender gets hit with an elemental token, each combustion token counts as an additional hit. Combustion tokens are not annihilated by, nor do they annihilate elemental tokens.[1]
Golden Temple Tigerdillos
This team is exclusive to the deluxe version of The Legend of Korra: Pro-bending Arena.
Members
Haka (earthbender; captain)
Josei (firebender)
Kano (waterbender)
Special ability
Veteran: When veteran technique cards are used for chi, gain two chi instead of one. No chi is gained for using the technique card like normal.[1]
Bau Ling Buzzardwasps
Members
Shan (earthbender; captain)
Ko (firebender)
Loong (waterbender)
Special ability
Sting: Place a sting token in a benders space, this token will result in the bender's team losing one chi.
Earth Empire
Members
Kuvira (earthbender; only member)
Special Ability
Prowess: When using a trick card, if it has yellow fan icon, do not roll the yellow fan die. If it has a removal icon, roll the die. If a yellow fan is rolled, the card is discarded, otherwise it may be reused.
Water Tribe
Members
Unalaq (waterbender; only member)
Special Ability
Soul Siphon: If a player has a spirtbending token, they may spend it to attack another bender on a nearby space. The opponent must discard a card of that bender's element, and the spiritbending token is returned to the supply.
The Avatar
This team is exclusive to the Amon Expansion pack for The Legend of Korra: Pro-bending Arena.
Members
Avatar Korra (only member; waterbender, earthbender, and firebender)
Special ability
Elemental Mastery and Counterbend: Avatar Korra can bend water, earth, or fire. You can mix and match technique and trick cards from all elements available. Korra also has access to the Fire Ferrets technique, counterbend.[1]
The Equalists
This team is exclusive to the Amon Expansion pack for The Legend of Korra: Pro-bending Arena.
Members
Amon (bloodbender; martial artist)
Lieutenant (chi-blocker)
Three other chi-blockers
Special ability
While the Equalists do not have a special ability or bending like other teams, this team includes more members than any other, and has the ability to use bolas, shock gloves, smoke bombs, and tonfas to disable opponents techniques.[1]
Components
The core game contains the items below:[1]
A board resembling the pro-bending court
A Fire Ferrets team board
A Wolfbats team board
Six gray miniature figures (one for each member of each team)
Thirty elemental tokens (ten tokens for each element)
Seventy-two technique cards (thirty-six for each team)
Eighteen trick cards
Six daze tokens
Twelve hold tokens
Six yellow fan tokens
One momentum token
Two chi-markers
One referee dice
One rule book
Deluxe Edition
The Deluxe Edition, which is only available through the Kickstarter project, includes all of the above as well as:[1]
Limited Deluxe Edition packaging
Limited edition championship promotional poster
Seven extra teams, each including their own team board, trick cards and figures:

Red Sands Rabaroos
Black Quarry Boar-q-pines
P'Li
Kuvira
Unalaq

Thirty universal trick cards separated into five extra themed packs:

The "foresight" pack
The "rule breaker" pack #1
The "rule breaker" pack #2
The "rule breaker" pack #3
The "style" pack

Thirty plastic bending tokens
Amon Expansion
The Amon Expansion pack contains:[1]
Amon expansion pack box
Amon miniature
One lieutenant miniature
Three equalist chi-blocker miniatures
Double-sided Amon team board (one side for And the Winner is… mode and the other for solo play)
Avatar Korra team board
Amon AI deck
Avatar Korra deck
Amon solo bender deck
Nine additional trick cards
References
Community content is available under
CC-BY-SA
unless otherwise noted.