Wiki Targeted (Entertainment)
Play Sound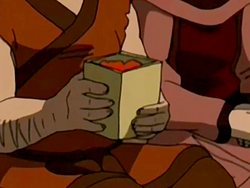 Sizzle-crisps are a popular treat in the Fire Nation. They have a distinct crispy, bacon-like taste and are, in the style of typical Fire Nation foods, spicy-hot. Sizzle-crisps are traditionally made from meat,[1][2] and exist in many different versions. They are a common food sold by street vendors who often compete with one another to produce spicier variants than their rivals.[2]
Known variants
"Dragon's Breath" - nicknamed after General Iroh, this variant was developed after the Hundred Year War and is considered extremely spicy.[2]
"Peppery" - considered one of the more mild variants.[2]
Trivia
There are claims about sizzle-crisps also being made made from rice, soy, and nuts instead of meat, but these theories "are probably wrong".[1]
References
See also