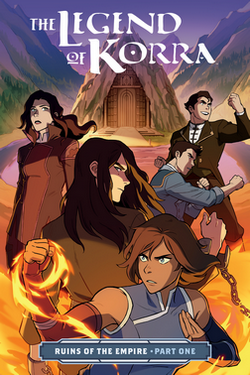 Ruins of the Empire is an upcoming graphic novel trilogy set in the Avatar universe, directly following the events of the Turf Wars trilogy. It will be the second series based on The Legend of Korra and is written by franchise co-creator Michael Dante DiMartino, with art by Michelle Wong and Vivian Ng. The first issue is set to be released on May 21, 2019,[1] with the second due on October 8, 2019[2]
The Ruins of the Empire trilogy will include:
Ruins of the Empire Part Three
Plot
Korra must decide who to trust as the fate of the Earth Kingdom hangs in the balance! On the eve of its first elections, the Earth Kingdom finds its future endangered by its past. Even as Kuvira stands trial for her crimes, vestiges of her imperial ambitions threaten to undermine the nation's democratic hopes. But when Korra, Asami, Mako, and Bolin don't all see eye-to-eye as to the solution, drastic measures will be taken to halt a new march to war![1]
Trivia
Ruins of the Empire was the first comic book trilogy to be announced via a Penguin Random House listing; all previous trilogies or entries in trilogies were announced through a press release.
References
See also