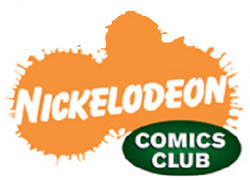 Nickelodeon Comics Club, alternatively titled Nickelodeon Comics and informally known as the Nick Mag Presents series in the past, was a specialty spin-off periodical of Nickelodeon Magazine that was made to highlight one popular Nickelodeon series per issue.[1] It was discontinued in late 2009 along with its root magazine.
History
Conception and purpose
Nickelodeon Comics Club only became an official subscription late in Nick Magazine's lifetime. Although it had been on the market in numerous editions for years as, for example, the all-Avatar magazines and the SpongeBob "Best of comics" compilations often under the name "Nick Mag Presents", the formulation of an official title for these issues spurred a forking from Nick Magazine to become their own periodical.[1] Not only would these issues focus specifically on releasing new content about one series in particular per issue, but they would also serialize previously published comics for special occasions.[2]
Distribution
One reason why the Comics and Presents series did not fare as well as the more commonly marketed Nickelodeon Magazine was their uneven distribution. Although these special editions of Nick Magazine were generally sold in the same locations as their parent periodical, there would be very few copies of the magazine per store. Furthermore, the Nick Mag Presents series was not shipped overseas and circulated only in North America; even so, Nickelodeon did not ship many copies to Canada, so United States customers were the main patrons.[3] One issue of Nick Mag Presents might be well stocked by unusual sellers[4] while another issue might be undersold at popular bookstores.[3]
Cancellation and succession
See also: Nickelodeon Magazine
Nickelodeon Comics, as a subsidiary of Nick Magazine, was discontinued along with its parent in late 2009. Because of its lucrative run on the magazine market in comparison to other series, the SpongeBob SquarePants franchise took the place of Nick Magazine and of the Comics Club as Nickelodeon's popular magazine. Unlike previous Nick periodicals, SpongeBob Comics is published bimonthly.[5]
Avatar: The Last Airbender editions
Nick Mag Presents
Four Heroes Face the Fire!
At forty-eight pages long, "Four Heroes Face the Fire!" is the first issue of the all-Avatar magazine series. This special was advertised to be released on September 12, 2006,[6] but it went on sale a few days early in select locations.[4]
"Four Heroes Face the Fire!"'s new content included two comics written and illustrated by the crew of the television series ("Water War" and "Sokka the Avatar"), interviews, in-depth pictures and posters of the Avatar world, quizzes, games, and miscellaneous other activities.[6] Of recycled content, the magazine serialized one comic ("Bee Calm") and one article, an interview with Sifu Kisu about the Avatar world's martial artistry. A highlight of the issue was the spotlight shone upon Avatar fansites of the day, which gave the URLs to Distant Horizon and Avatar Spirit. Finally, the last few pages gave answers to quizzes and games and printed the credits.[7]

Enter: The Fire Nation
The fifty-four page "Enter: The Fire Nation" issue was, similar to its predecessor, put on the market earlier than its advertised release at select locations. Despite press releases stating it would go on sale September 18, 2007,[8] it was on the stands by at least the fourteenth.[9]
During the long wait between Books Two and Three of the animated series, little new information about the show was revealed until this issue of the Nick Mag Presents series. Over thirty pages of the magazine were entirely devoted to brand-new, mostly canon comics. Three of these bridged the gap between seasons two and three ("It's Only Natural", "Going Home Again", and "The Bridge"); one of them was less connected to the others ("Fruit-Stand Freestyle"); and the final comic was a non-canon bonus story illustrated chibi-style ("Gym Time"). Aside from the comics, there were, like the last issue, interviews, exclusive pics and sneak-peeks, puzzles, games, and other entirely Avatar content.[8]
Nickelodeon Comics Club
Avatar's presence in the Nickelodeon Comics Club magazine was almost as substantial as that of SpongeBob SquarePants, but there was never an issue entirely devoted to it. Comics published in issues of Nickeldoeon Comics include "Don't Blow It!", "Dragon Days", "Swordbending", "No Benders Allowed",[10] "Game Time",[11] and "Bumi vs. Toph, Round One".[2][10]
Trivia
The second issue of Nick Mag Presents: Avatar: The Last Airbender was scanned avidly by fans of the show and was posted at multiple websites.[12]
Issues of Nickelodeon Comics with SpongeBob SquarePants covers generated the most customer interest and sold better than similar magazines with different covers by "a HUGE margin!"[1]
References
See also
External links