"Peace? Peace for whom? With all due respect, Your Majesty, my family has lived on this land for generations! This city was built on our blood and sweat! We have as much a right to be here as anyone else!"

— Mayor Morishita to Fire Lord Zuko on the Harmony Restoration Movement.[1]
Mayor Morishita was the Fire Nation authority in charge of Yu Dao, the oldest Fire Nation colony, located in the western Earth Kingdom. Descended from a colonist family that had served the Fire Lord for generations, Morishita was a staunch opponent of the Harmony Restoration Movement. His wife was an earthbender, as was his daughter, Kori.[1]
History
During the Harmony Restoration Movement, Yu Dao started the process of decolonization. However, the age of the colony as well as its status as the first of the Fire Nation colonies led to particular problems. After his daughter, Kori, attempted to assassinate Fire Lord Zuko, Morishita received a visit from the Fire Lord himself, who planned to oversee the dismantling of the colony. However, the mayor refused to leave the city, telling Zuko that he was wrong in allowing the Earth King and the Avatar to bully him into disregarding his people. After Morishita unfavorably compared him to Fire Lord Ozai, Zuko attacked him; nonetheless, Morishita continued to speak his mind, saying that Zuko was clearly not his father because Ozai, despite his flaws, was never a coward or a traitor. At this moment, Mrs. Morishita intervened with earthbending to save her husband. This, combined with the revelation that Kori too was an earthbender, shocked Zuko enough that he reconsidered his position on the colonies and withdrew his support for the Harmony Restoration Movement.[1]
After the crisis' conclusion and an agreement between Zuko and Earth King Kuei, Morishita attended a meeting in the governor's place of Yu Dao with his family, Avatar Aang, Fire Lord Zuko, and other dignitaries to discuss the future of the city.[3]
Personality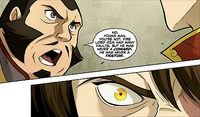 Morishita was a caring, if outspoken man. He was devoted to his family and clearly did not hold to the theories of Fire Nation superiority held by some others, marrying an earthbender woman. He loved his family very much, defending his daughter after she attempted to assassinate the Fire Lord even in the face of Zuko's threats. Highly concerned with the well-being of his city, he strongly opposed the Avatar-led efforts to remove the Fire Nation colonies from the Earth Kingdom, believing that because the families had lived there for so long, they were as much citizens of the place as the Earth Kingdom people. While he was not fond of Ozai as a leader and was even quick to admit his dislike toward him, he did not think very highly of Zuko's demands to remove the Fire Nation citizens in Yu Dao, going so far as to call him a hypocritical and uncaring dictator and a traitor to his own nation.[1]
Relatives
Appearances
Graphic novels
Trivia
Morishita had at least five nieces and nephews.[4]
References