The Last Airbender has received negative responses from many critics in the United States, who have criticized it for Shyamalan's poor direction, pacing, and screenplay. As of September 2020, more than 10 years after its release, the film holds a 2% score on Rotten Tomatoes from Top Critics and a 5% score from All Critics, with a consensus of "Despite flashy special effects, The Last Airbender squanders the potential of its popular source material on an incomprehensible plot, laughable dialogue, and a joyless sense of detachment".[1] Film critic Roger Ebert gave the film a half a star, stating that the film "is an agonizing experience in every category I can think of and others still waiting to be invented".[2] It was also panned by the Huffington Post's critic Scott Mendelson, who gave it a D+;[3] A. O. Scott of the New York Times ("The Last Airbender? Let's hope so!");[4] and Christy Lemire of the Associated Press, who called it a "muddled, messy bore".
The film's 3D conversion was also poorly received, with critics calling it unnecessary and poorly done. David Roark of Relevant Magazine gave a positive review claiming that many other critics are bias to the director (Shyamalan); he praised it for using fighting scenes that worked in a children's film. They also claimed its special effects and storyline out-weighed the rushed script and noticed how Shyamalan was succeeding against all odds.[5]
Accolades
The Last Airbender was nominated Choice Summer Movie for the 2010 Teen Choice Awards[6] but did not win.[7]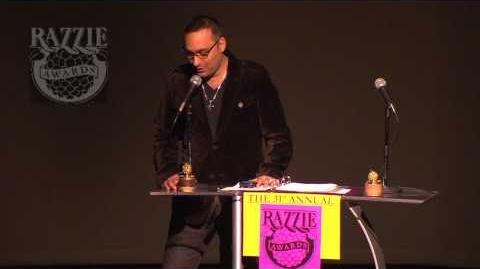 The film was also nominated nine times for the Raspberry Awards,[8] or Razzies for short, including: Worst Picture (Paramount and Nickelodeon Movies), Worst Director (M. Night Shyamalan), Worst Screenplay (by M. Night Shyamalan, based on the TV series created by Michael Dante DiMartino and Bryan Konietzko), Worst Supporting Actress (Nicola Peltz), twice for Worst Supporting Actor (Dev Patel and Jackson Rathbone), Worst Screen Couple/Ensemble (the entire cast), Worse Prequel, Remake, Rip-Off or Sequel (a combined Category for 2010), and Worst Eye-Gouging Mis-Use of 3-D (a brand-new category for 2010). It tied with The Twilight Saga: Eclipse film for the most number of nominations.
On February 26th 2011, the film won five out of eight possible awards:[9] Worst Picture, Worst Director, Worst Screenplay, Worst Supporting Actor for Jackson Rathbone, and Worst eye-gouging misuse of 3-D. The Worst Sequel and Worst Screen Couple/Ensemble were lost to Sex and the City 2, while Worst Supporting Actress went to Jessica Alba. Razzies founder John Wilson said of Shyamalan "He managed to take a cartoon property and make it even less lifelike by making it with real actors".[10] Canadian comedian Russell Peters accepted the worst picture Razzie on Shyamalan's behalf.[11] Peters joked that, despite his South Asian heritage, he did not know how to pronounce Shyamalan's name any more than most people in North America and said "That brown bastard has made six movies and hasn't cast me once". Peters also said "So on behalf of my community, which spans the globe — in India alone at 1.3 billion people — way to disappoint over a billion people".[12] Jackson Rathbone later on MTV's The Seven, thanked the "wonderful people at the Razzies" for considering him and letting him take home the "amazing award", but he wanted to know if "the golden statue comes with golden whipped cream ..."[13]
James Newton Howard was nominated with five awards from the International Film Music Critics Association (IFMCA), two of which are related to his work for The Last Airbender: Best Original score for a Fantasy/Science Fiction/Horror Film (The Last Airbender, music) and Film Music Composition of the Year (The Last Airbender, 'Flow like Water').[14] On February 24th, those two awards were won respectively by Daft Punk for Tron: Legacy and by Danny Elfman for "Alice's Theme" in Alice in Wonderland.[15]
Noah Ringer and Seychelle Gabriel were nominated in the 32nd Young Artist Award for Best Performance in a Feature Film for Leading Young Actor and Supporting Young Actress, respectively.[16] On March 13th 2011, the first award was won by Jaden Smith in The Karate Kid and the second award was jointly won by Diandra Newlin in Dreamkiller and Stefanie Scott in Flipped.
For the 2011 MTV Movie Awards, Dev Patel was nominated for the Best Villain, Nicola Peltz for Best Female Breakout Star, and Noah Ringer along with Jackson Rathbone for Best Male Breakout Star.[17] On voting day, May 3rd, they were eliminated from the final nominee lists.
For the 3rd Annual Coming of Age Movie Awards, Noah Ringer was nominated[18] and won the award for Best Actor for his performance in M. Night Shyamalan's film The Last Airbender.[19]
British slang for 'bender'
The film was received poorly in Great Britain due to a difference in American English and British English.[20] The word "bender" is British slang for "homosexual". Thus, dialogue such as "There are some really powerful benders in the Northern Tribe." was often met with childish giggling. Dev Patel, who played Zuko, is British himself, but chose not to mention this language difference to director M. Night Shyamalan because the word was "too integral to the movie".[21]
Casting controversy
Main article: Casting controversy
There is ongoing controversy in the Avatar fan community over the casting choices, in particular the changing of race of many of the main characters, which was perceived as straying too far from the series' Asian influences.
Demands for a reboot
Main article: Readapting Avatar: The Last Airbender
Many fans of the original Avatar: The Last Airbender series are unhappy with Shyamalan's film adaptation, so some of them have demanded a remake or reboot of the film. These aspiring fans can work on a fanon reboot using this page as a starting point, as well discussing ideas for a readaptation.
In 2019, these hopes were fulfilled with Netflix's announcement of their own live-action adaptation of Avatar: The Last Airbender.
Creators' response and experience on the film
Before the film's release, co-creators Bryan Konietzko and Mike DiMartino vocally supported the film, even appearing in an interview with M. Night Shyamalan.[22] However, following the film's release and the negative reception it had received, the two remained quiet on the film, making only brief statements on it.[23]
On Dante Basco's Reddit AmA thread, when asked what he thought of the Last Airbender movie, he responded by saying that Bryan and Mike told him not to see it.[24]
In 2014, however, the two broke their silence when on an interview with Nerdist.com; they were asked of their thoughts on the film, Bryan referring to it as a "catastrophe" while Mike called it "the movie that shall not be named."
Claiming to have been "dragged through it," knowing production wasn't faring well, they were eventually only "holding onto the hope that it was half-way decent." They expressed their distaste, from prior to its inception, of a film adaptation of Avatar: The Last Airbender. In the case of one being made, they pleaded to take charge of it themselves, but "were not allowed," only managing to provide Shyamalan advice on the film that was merely ignored on account of a "falling out" between the co-creators and Shyamalan. Bryan stated "We gave, like, input that went no where. Our involvement [in the movie] had no effect."
Bryan also described the adaptation as a "wasted opportunity," especially in the poor recreation of his and Mike's characters whom he said were being "dragged through the mud" for the film.[25]
However, in the same interview, they stated that they didn't have to fight back much because they "gathered an army [of fans who are] screaming at this guy [Shyamalan]." All they had to do was sit back and let the fans handle the situation. They even said the production of the film introduced them to great producers and talents, notably meeting Seychelle Gabriel, who played Yue in the film, was later cast as Asami Sato in the sequel to Avatar: The Last Airbender, The Legend of Korra.
Bryan also has stated in the interview that this is not the first time a project has been horribly adapted by Hollywood, and it is not the last time. "It might even happen to us again" – which refers to the possibility of a Korra movie. Bryan promises that he and Mike will approach the situation differently if another Avatar-based movie is made.
The co-creators' lawyers fought to have Mike and Bryan's name on the movie, Bryan saying "In hindsight, I didn't even want that!" The co-creators wanted people to know that the movie depicted their world, because Shyamalan put his name on the movie as if it was his creation. Konietzko continued, however, positing that "At the end of the day, we said 'wait, why didn't we just let him do that[-- have his name solely on the movie]? I don't want to be associated with that!" DiMartino accordingly chimed in, adding his response "That's his [Shyamalan's]. That's all his."
Due to their unpleasant experience with The Last Airbender's production, the duo decided to write every episode of The Legend of Korra themselves to ensure it sure it was "done right."[26]
In an interview with IGN, when asked if they would like to see a different version of the Last Airbender movie, Mike said that he would like "no version" to be the alternate one, though the two expressed interest in doing a film in the Avatar world, whether it be "live-action, animated, original or adapted."[27]
Miscellaneous
For some fans of the original series, the negative fan reactions for the movie that were anticipated in the episode "The Ember Island Players" were spot on.
Some viewers had compared this movie to a more "creative" adaptation, the 2009 film Dragonball Evolution. A typical response is to quote from a video by MybasementReviews: "If this movie was anything like Dragonball Evolution, then Aang would be a 16-year-old high school student living in the city with Monk Gyatso, the apartment complex would be named the Air Temple, and they would have a cat named Momo. Appa would not have been mentioned and Katara would have been Aang's high school sweetheart who could bend magic water. Zuko would be a bully at school; instead of being a prince, he would actually be a rich kid whose father owned a comic book company called Sozin's Comics".
References