A vast range of fauna inhabit the world, ranging over virtually every landscape as well as the oceans and skies. Most of the animals presented are hybrids of two real world animals; sometimes this hybridization is explicit, at other times more subtle. There are certain exceptions though, such as Kuei's pet bear, Bosco, the herbalist's cat, Miyuki, or the messenger hawk.
Habitats
There are several distinct habitats in the Avatar World, suitable for different animals and plants.
Foggy Swamp
Due to the wet climate and abundant vegetation, the Foggy Swamp plays host to a large variety of fauna. Hundreds of living things are densely packed into the swamp; this includes swamp fireflies, elbow leeches, screeching birds, and catgators.[1]
Great Divide
The Great Divide has various species due to an arid climate. This unique area is home to certain creatures, such as the canyon crawlers.[2]
Poles
The low temperatures in both the Northern and Southern Water Tribes do not allow for much fauna to thrive. However, there are some animals that have adapted to the cold environment, such as otter penguins, tiger seals, polar dogs, polar bear dogs, and buffalo yaks.
Si Wong Desert
The Si Wong Desert has the driest, hottest climate in the world. The desert's ecosystem primarily consists of a few scavenger species such as the gilacorn, predatory insects known as buzzard wasps, giant rhinoceros beetles, which are used for transportation, scorpions, and jackalopes.[3]
List of fauna
Air Nomads
Terrestrial
Hermit crab — Crustacean that outgrows and replaces its shell.[4]
Squirrel — Small rodent inhabiting the Eastern Air Temple.[5]
Flying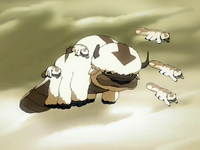 Water Tribe
Aquatic/semiaquatic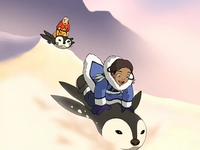 Otter penguin — Penguin with four flippers, used by Water Tribe people as sledges.[7]
Penguin fish — Gray fish with pink fins. It has a large eye in between its gills and its mouth.[23]
Polar orca[24]
Puffin-seal — Hybrid animal whose meat is made into sausages.[25]
Sea sponge — Aquatic invertebrate.[26]
Sea squid — Edible mollusc.[19]
Tiger seal — Striped brown seal.[7]
Tiger shark — A powerful animal that is a cross between a tiger and a shark.[27]
Turtle seal — Brown seal with a hard shell, native to the North Pole.[26]
Whale-walrus — Creature whose blubber is used to make lamp oil.[25]
Terrestrial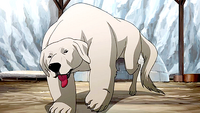 Earth Kingdom
Aquatic/semiaquatic
Crab — Crustacean that can be made into crab puffs.[36]
Creeping slime — An "algaelike [sic] mass that crawls up the walls of the sewers in Omashu".[37]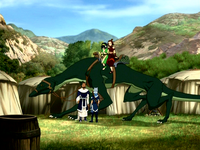 Eel hound — Amphibious four-legged creature; used for quick transportation over both land and water.[10]
Eel swan — An elegant animal from which many upper-class topiaries are based.[38]
Elbow leech — Enormous parasitic worm that attaches to elbows and feeds on human blood.[1]
Elephant koi — Massive oceanic koi fish.[39]
Frog — Amphibian that lives in and near water.
Frog squirrel — Small hybrid creature that dwells in the Foggy Swamp.[40]
Flying fishopotamus — Combination of a hippo and a fish that people often ride for entertainment.[41]
Hippo — Large, semi-aquatic mammal.
Horned toad — Large amphibian with black horns.[42]
Jellynemone— Cross between a jellyfish and a sea anemone. It resembles a blob of water that pulsates and floats along the current.[43] It is the secret ingredient of the Jelly Shack's famous chowder.[44]
Killer shrimp — Ocean-dwelling crustacean.[36]
Lobster crab — Crustacean that can be consumed as food in the Jelly Shack, a restaurant located in Boat Bottom.[44]
Purple pentapus — Small cephalopod with five tentacles.[47]
Serpent — Large aquatic creature that inhabits the East and West Lakes[14] and is capable of dismantling a Fire Nation cruiser.[48]
Skunk fish — Foul-smelling, oily fish.[5]
Turtle duck — Duck with a protective green shell, can be domesticated and cooked.[50]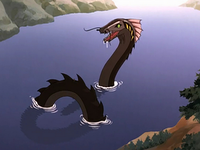 Flying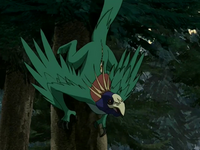 Terrestrial
Armadillo lion — Animal that can roll up when tensed.[73]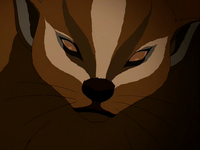 Fire ferret — Red arboreal mammal common to bamboo forests.[81]
Fox antelope — Horned four-legged herbivore with a tail.[36]
Gecko — A small lizard able to quickly scale walls; inspiration for the Earth Rumble fighter of the same name.[82]
Gemsbok bull — Stocky brown animal with large horns.[56]
Giant night crawler — Giant worm.
Giant rhinoceros beetle — Giant beetle; used for transportation.[6]
Glowworm — Bioluminescent bug kept in jars as a light source.[83]
Gopher — A burrowing rodent; inspiration for the Earth Rumble fighter of the same name.[84]
Gopher bear — Cross between a gopher and a bear.[36]
Goat gorilla — Aggressive primate which inhabits secluded mountains and woodland; are sometimes held in captivity and tamed.[77]
Hermit marmoset — Chimerical creature with a strong shell that can last for centuries, which is often collected by shell connoisseurs.[85]
Hog monkey — Forest-dwelling ape with a squashed face.[75]
Hopping llama[86]
Hoppy possum — Cross between a frog and a possum.[37]
Hybrid pigs — Includes the wooly-pig, moo-sow, picken, pigster, pig deer, bull pig, and pig chicken.[87][88]
Leech-a-pillar — Leech and caterpillar cross.[37]
Lop-eared rabbit — Nimble rabbit with long, drooping ears.[77]
Meadow vole — Small white rodent.[13]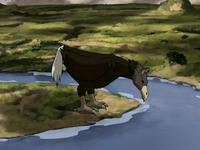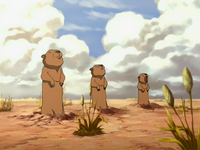 Fire Nation
Aquatic/semiaquatic
Badgerfrog — Green and brown frog with a trim of white fur.[100][101]
Clam — Mollusk found in the Jang Hui River; outer shell blisters when its environment is ravaged by water pollution.[102]
Coral urchin — A cross between a coral and a sea urchin; inspiration for the Coral Urchin Noodle Shop.[103]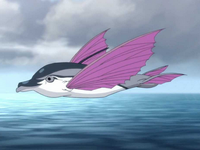 Flying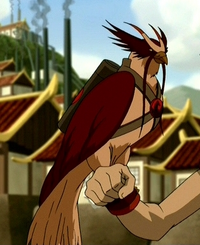 Terrestrial
Aardvark sloth — Used in the Sun Warriors' ancient city to clean off slime.[117]
Armadillo bear — Large bear with a hard, segmented shell.[118]
Cavehopper — White arthropod with four legs.[76]
Dragon moose — Used for pulling carriages.[114]
Earthworm — A burrowing invertebrate that feeds off organic matter in the soil and is enjoyed by pig chickens; distinguished by the raised band, or clitellum, located near the head of the body.[110]
Elephant rat — Elephant and rat cross.[119]
Hippo-ox — Eaten as a delicacy.[120]
Koala sheep — Koala and sheep hybrid.[121]
Komodo chicken — A cross between a komodo dragon and a chicken; can be consumed as food.[76]
Komodo rhino — Ferocious creature characterized by its versatility and ability to function over many different types of terrain; it is therefore useful as a cavalry mount, but is also used to make komodo sausages.[39]
Maggot slug — A cross between a maggot and a slug.[110]
Mongoose lizard — Mongoose and basilisk lizard cross used for transportation.[53]
Snail sloth — Cross between a snail and a sloth and the slowest creature in the world.[123]
Squirrel toad — A small forest dwelling animal, it is a cross between a squirrel and a toad.[112]
Tiger monkey — Hybrid of a tiger and a monkey.[124]
United Republic of Nations
Aquatic/semiaquatic
Fish — Aquatic fauna found in the ponds of Avatar Korra Park.[126]
Starfish — Marine invertebrate with five radial appendages.[127]
Squid — Aquatic fauna found at the shores of Republic City.[128]
Flying
Terrestrial
Spirit World
Aquatic/semiaquatic
Catgator spirit — Reptile living in aquatic regions of the Spirit World, which can grow much larger than its counterpart from the natural world, and has spiritual abilities.[135][136]
Koi fish — Physical manifestation of the spirits Tui and La, who correspond with the Moon and Ocean, respectively. Two fish are found in the Northern Water Tribe's Spirit Oasis, one of which is primarily white and the other black. They continuously swim in a circle, performing an eternal dance of push and pull.[137]
Flying
Terrestrial
Curly-tailed blue nose — Primate with brown fur.[137]
Forest spirit — Supernatural entity that watches over the forested regions of the northwestern Earth Kingdom.[139]
Giant wolf — Creature identical to an actual wolf with the exception of its gargantuan size.[137]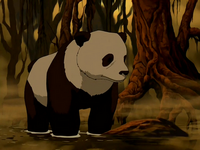 Others
Aquatic/semiaquatic
Flying
Terrestrial
Angler termite — Cross between an angler and a termite that forms colonies in vast complex mounds.[148]
Cat deer — Cross between a cat and a deer; it can be domesticated and is large enough to be ridden.[149]
Chicken lizard — Cross between a chicken and a lizard.[122]
Cricket snail — Cross between a cricket and a snail.[150]
Falconfox — Feathered cross between a falcon and a fox.[151]
Fox — A four-legged creature that resembles a falconfox, only without the beak and the feathers.[151]
Jaguar beetle — An insect that lives in mounds created by angler termites after they have moved on to form other colonies.[148]
Lion elephant — Cross between a lion and an elephant.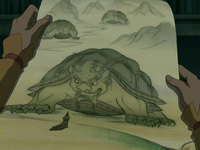 Notes
References