Zuko

, something happened to Legend of Mei Lien in the last hundred years.

This fanon has been discontinued, but is still available to read for your enjoyment.
Juji's fine. He comes back to life in the end when the doomsday device shifts the polarity of the Earth. Oops. Spoiler. Sorry.

Warning! This page contains spoilers for Legend of Mei Lien.
Legend of Mei Lien


Mei Lien's Journey

General information
Genre

Adventure

Creator(s)
Chapters

So far eleven have been released

Country/Language

English

Original run

March 23, 2011 to Unknown date

Production
Writer(s)
Editor(s)
Chronology
Channel

Avatar Wiki Fanon
Legend of Mei Lien is a fanon written by Skybender101. This story is about a fifteen- year-old girl (almost sixteen), Mei Lien, who travels with her mom in the Earth Kingdom. Mei Lien is a courageous and helpful girl who is also a talented Earthbender. A few months ago her father who is an Earthbender died of sickness. After his death, Mei Lien and her mother, Lanying, lose their home and everything they have because Mei Lien's father worked for the family's money. Now, with only a few important items for a long journey outdoors, Mei Lien and her mother set off to Ba Sing Se. Lanying must find work in the largest city in the Earth Kingdom to buy a house for she and her daughter or they will be poor travelers forever.
This story takes place during the years before Yangchen's predecessor.
My Fanon
This is my first fanon! I really hope you enjoy it. I thought of this fanon randomly when I was laying in my bed. It just occurred to me that I had to write down what I thought of! Thanks for all of your support!
Characters and Minor Characters (so far)
Mei Lien - A fifteen-year-old (turned sixteen in 10th chapter) girl who is courageous, head-strong, and calm. She is an excellent Earthbender and she does not know why she is very good with her bending ability. She is kind and skilled with many things such as fishing, hunting animals, writing, and more.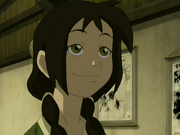 Lanying
The mother of Mei Lien who is loving, fearful, and intelligent. She is always there for her daughter and will protect her at all costs. She fears for her survival out in the wilderness.
Ranu - Antagonist of the story. The highest general of the Earth King. He is very devious and thinks through his plans. The Earth King does not know about his sneaky plans. He seeks for power of ruling the world.
Earth King- The Earth King of the Earth Kingdom. He is very worried that he will never find the next Avatar.
Gao - Mei Lien's father who died from a severe illness several months ago.
Mailo- Ranu's trusty assistant who also wants to take over the world. But little does he know that Ranu is just using him as a servant.
Lanji Tong- A fifteen-year-old Earthbender girl, who is confident, brave, and friendly. Lanji is very careful if she sees someone who is not familiar or if she thinks the person is a threat. She can also be kind when meeting someone. She is a skilled Earthbender like Mei Lien.
Quan Tong- The father of Lanji Tong who was only briefly mentioned by her. He is presumably her father.
Yong- Yong is a strong Earthbender boy who was captured by the Earth King's soldiers to see if he was the Avatar. Ranu and a few soldiers at first thought he was, but then realized he was not. Yong will effect Mei Lien's life... in a good way.
Niha- The girl that Mei Lien, Lanying, and Lanji discovered in the mountain. Her tribe was the Shin Tee Tribe.
Bao Yu- Friendly leader of the Shin Tee Tribe.
Jia- A mysterious Waterbender who the group discovered in the carriage that they were trapped in by the driver. After escaping the coach, she led them to the dock where the ferries were located. She gave Mei Lien a strange omen and dashed away leaving a startled Earthbender girl.
Chapters
Chapter 1 - Beginning of a Journey
Chapter 2 - Problems, Solutions, and Surprises
Chapter 3 - Lanji Tong
Chapter 4 - Traveling On
Chapter 5 - The Escape
Chapter 6 - Into the Mountain Part 1
Chapter 7 - Into the Mountain Part 2
Chapter 8 - Reaching Ba Sing Se
Chapter 9 - Difficulties and Unexpected Matters
Chapter 10 - Revealings
Chapter 11 - Discoverings
Chapter 12: The Final Journey
Synopsys
After Mei Lien discovered the revelation that she was indeed the Avatar, her strength will be tested when someone's real identity is revealed. Friendships will be vital in order for the young Avatar to fulfill her destiny. The fate of the leadership of the word rests in Mei Liens hands.
Will this be it?
Epilogue:
Updates/News
Check out my new updates and news page for Legend of Mei Lien HERE!!!
This page gives you all of the updates and news for my fanon, so none of that will be on here!

Thanks Renatabls and with some help from Moon Beam for the awesome chapter template
Prologue
The sun rose above the mountains and the birds sang their morning song. A voice interrupted Mei Lien's peaceful sleep.
"Mei Lien, it's morning. Wake up," Mei Lien's mother whispered lightly to her daughter. She stroked her beautiful daughter's dark brown hair, as she slept peacefully on a soft bed of leaves.
Mei Lien's eyes fluttered open and she groggily sat up from her sleeping position on the ground. Mei Lien smiled when she saw her mother kneeling near her. The small cave they had slept in for the night seemed brighter then before. It was either her mother's sparkling personality or the rays of morning sunlight that streamed into the circular cave.
"Mother, what day is it?" Mei Lien asked, rubbing her eyes with the back of her hand.
"Day eighty-three since we left home, darling," Lanying replied, smiling at her daughter. Mei Lien slowly stood up. She walked to the entrance of the cave and peered outside. The sun was still rising, but the air was very pure.
It was now, another day of adventure.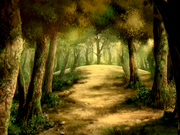 Reception
"YAY! I'm so excited to read it! It sounds so interesting! :)"

— Moph93
"It sounds more original than most fanons ; this is one I am now really expecting. :)"

— French Froglegs
"Sky, this chapter is very good! :) I really enjoyed it. I liked the way the past of Mei Lien is told through her diary, it is very well written."

— Dcasawang1
"This is great! I can picture everything in my head! The story seems so real!! Great Job Sky! I can't wait for the next chapter!!!"

— Aang20791

I would like to thank Aang20791, The Ultimate Waterbender, InspiredbyKaizuh, Renatabls and AvatarHaiLi for being my editors!
Notes
If anything needs editing, such as grammar or misspelled words, be my guest and fix it!
I would also like to say that you should check out French Froglegs fanon here.
Please don't ask me to advertise your fanon. Thanks.
See more
For the collective works of the author, go here.