House of the Dragon Trailer - The Loop
Play Sound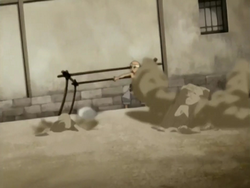 Earthbending ball[1] is a game played by earthbenders who use their bending to guide a leather ball across a field and into a goal. As the game relies heavily on earthbending and its root-like stances, there is not much running or physical contact with the ball involved in this game.
Earthbending ball is similar to the Air Nomads' game of airball, as it also incorporates bending to control a ball's movements, though it is not viewed an an official sport in the same way.
History
While walking around the Lower Ring of Ba Sing Se disguised as an Earth Kingdom refugee, Iroh watched a group of boys playing in a remote alleyway behind some houses. The boys accidentally broke the window of a nearby building, angering a huge man and prompting everyone, including Iroh, to flee the site.[2]
A modified version of this game was played after the events of Sozin's Comet, wherein the children used Fire Nation tanks that had been stacked vertically as the goal. This version meant that the ball had to be kicked over the tanks, instead of the regular goalposts.[3]
References
↑ Avatar Extras for "The Tales of Ba Sing Se" on Nicktoons Network.
↑ Estoesta, Joann, Wahlander, Lisa, Huebner, Andrew, Scheppke, Gary, MacMullan, Lauren, Mattila, Katie, Ridge, Justin, Volpe, Giancarlo (writers) & Spaulding, Ethan (director). (September 29, 2006). "The Tales of Ba Sing Se". Avatar: The Last Airbender. Season 2. Episode 15. Nickelodeon.
↑ DiMartino, Michael Dante, Konietzko, Bryan (writers) & Dos Santos, Joaquim (director). (July 19, 2008). "Sozin's Comet, Part 4: Avatar Aang". Avatar: The Last Airbender. Season 3. Episode 21. Nickelodeon.
See also