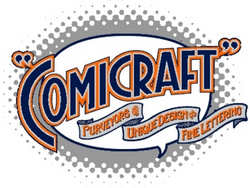 Comicraft is a graphics company that provides lettering services for a number of notable corporations, particularly those involved in the comic book industry. Comicraft has collaborated with Nickelodeon and Dark Horse Comics on many occasions, including on works of the Avatar franchise, from the Nickelodeon Magazine comics through to The Search trilogy.
History
Comicraft was founded in 1992[1] by Richard Starkings, a British writer and editor, and John Roschell. Their use of computer technology to create fonts and graphics in comic books made them "industry pioneers" in their field and gave them a leg up in the industry.[2] Since the company's establishment, Comicraft has taken on almost every client of the comic book scene, including DC Comics, Marvel Comics, Image Comics, Dark Horse Comics, Mad Magazine, Nickelodeon Productions, NBD Studios, Graphitti Designs, and Todd McFarlane Productions. It has been the recipient of numerous awards for its lettering and design.[1]
Avatar: The Last Airbender works
Nickelodeon Magazine and its special editions
Graphic novels
Standalone novels
Trivia
Comicraft is responsible for the lettering of every comic in the Avatar franchise except for two: "Bee Calm" and "Sleepbending".
References