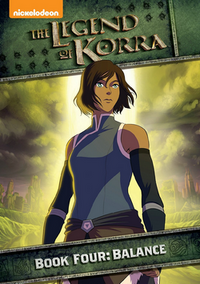 Book Four: Balance (平衡) is the fourth and final book of The Legend of Korra, spanning a total of thirteen episodes. Following Book Three: Change, Book Four is set three years after the defeat of the Red Lotus. The book was animated by Studio Mir and the first episode debuted for digital viewing on October 3, 2014, with the first three episodes debuting on television on November 28. Book Four concluded on December 19, with the release of the last two episodes online and the airing of the last four episodes on the Nicktoons Network.
Episodes
01 | After All These Years
Original air date: October 3, 2014
Written by: Joshua Hamilton
Directed by: Colin Heck
Production number: 401
Summary:
In the three years after the Insurrection of the Red Lotus, Republic City has come to terms with the spirits living in the metropolis, Kuvira and Baatar Jr., along with their supporters, have traveled the Earth Kingdom in an attempt to reunite it under her militaristic rule, and the Air Nation assists there where needed. By 174 AG, Asami Sato helped modernize Central City Station and Prince Wu is groomed to ascend the vacant Earth Kingdom throne with Mako momentarily serving as his bodyguard. Meanwhile, Kai and Opal stop a robbery in the State of Yi, though are unable to restore the town's supply lines, leaving the reluctant governor no other choice than to agree to Kuvira's terms for help and hand over the town to her command. Korra was set to reunite with Team Avatar in Republic City, but has been traveling alone for the past six months, making a rough living with earthbender cage fighting while hiding her identity as the Avatar.
02 | Korra Alone
Original air date: October 10, 2014
Written by: Michael Dante DiMartino
Directed by: Ian Graham
Production number: 402
Summary:
While being haunted by a shadow of herself in the Avatar State, Korra reminisces about the hardships she went through in the course of three years. In 171 AG, she retreated to the Southern Water Tribe in an attempt to heal her body and her mind. With Katara's help, she was able to recover physically after two years, though continued to have visions about Zaheer and the attempt on her life. In 173 AG, she set out on a journey across the world in an attempt to reconnect with Raava, though to no avail. In 174 AG, while wandering through a small Earth Kingdom town, she decides to confront the vision of herself, but loses. However, when a small dog begs her to follow it, she finds herself in the Foggy Swamp. After passing out following a new confrontation with her Avatar self, she wakes up in the home of Toph.
03 | The Coronation
Original air date: October 17, 2014
Written by: Tim Hedrick
Directed by: Melchior Zwyer
Production number: 403
Summary:
Wu is preparing for his coronation, while Mako has his doubts about the leading capabilities of the prince. At the coronation ceremony, shrunken down because most of the royal artifacts have been looted, Wu honors Kuvira with a medal, but she declares she is now in control, threatening to crush anyone who stands in the way of her new Earth Empire. Although anointed king, Wu does not command respect among his people, which Mako helps him realize. With a conflict brewing, Tenzin tasks his three eldest children to search for Korra and bring her back to Republic City. Meanwhile, Korra is training with Toph Beifong in the Foggy Swamp and finds out that there are still residual traces of mercury in her body. Toph gives up on her attempt to remove it after Korra subconsciously fought against her actions, hypothesizing Korra accepts the poison as an excuse to escape being the Avatar.
04 | The Calling
Original air date: October 24, 2014
Written by: Katie Mattila
Directed by: Colin Heck
Production number: 404
Summary:
Tenzin asks his children to travel from Air Temple Island to look for Korra, as he is needed in Republic City to deal with the "Kuvira issue". Surprisingly, Jinora has a difficult time locating Korra's spiritual energy, and the lack of progress causes tensions to run high between the siblings. After befriending a couple of soldiers after being captured, Ikki is saved by Meelo and Jinora and they head to the swamp. Meanwhile, Korra is still having difficulty facing her past, and Toph takes her to the banyan-grove tree. There, Korra is able to locate the airbenders, who had been pulled into the swamp by vines. They reunite, and in Toph's home, Korra is finally able to remove the remaining mercury from her body and access the Avatar State.
05 | Enemy at the Gates
Original air date: October 31, 2014
Written by: Joshua Hamilton
Directed by: Ian Graham
Production number: 405
Summary:
Kuvira marches her entire army upon Zaofu in an attempt to coerce Suyin into surrendering the metal city to the Earth Empire, without having to take it by force. Suyin refuses, however, despite repeated warnings from both Kuvira and Korra, who went to Zaofu with Jinora, Ikki, and Meelo. Meanwhile, Varrick starts to get troubled by his conscience and refuses to further develop the spirit vine technology. When Kuvira threatens to kill him, however, he continues his work to weaponize the spirit energy. After a confrontation with the Beifong clan, Bolin questions Kuvira's methods and he ultimately decides to betray her, joining forces with Varrick and Zhu Li in an attempt to escape. Their attempt is foiled by Baatar Jr., however, and while Zhu Li pledges her loyalty to Kuvira, Bolin is sent to a reeducation camp while Varrick is forced to continue his experiments. Korra tries to talk to Kuvira, though she is only given the chance to talk Suyin into surrendering Zaofu. When she returns to talk to the matriarch, she learns from Baatar that Suyin and the twins have sneaked out to face Kuvira directly.
06 | The Battle of Zaofu
Original air date: November 7, 2014
Written by: Tim Hedrick
Directed by: Melchior Zwyer
Production number: 406
Summary:
Suyin tries to take out Kuvira in the night, though her plan fails and she and her twin sons are taken prisoner. Kuvira announces to Zaofu what Suyin has done and tells its leaders to step forward and surrender. Korra, Jinora, and Opal walk out to stop Kuvira, who has her entire army ready to invade the metal city. Kuvira and Korra have a brief standoff, after which Korra deduces there is no other option than to fight. Kuvira proposes a one-on-one duel, in which she has the upper hand until Korra enters the Avatar State. However, plagued by her Avatar apparition once again, Korra is unable to finish her attack, enabling Kuvira to defeat her. Before Kuvira can finish Korra off, Opal and Jinora intervene, saving the Avatar, and they flee Zaofu. Baatar and Huan are subsequently arrested as they refuse to acknowledge Kuvira as their leader. Meanwhile, Bolin and Varrick are forced to continue working on weaponizing the spirit vine energy, though Varrick secretly turns the stasis tube into a bomb, destroying his research and enabling Bolin and himself to escape. However, Baatar Jr. closely observed the research and is confident he can restart the project with the help of Zhu Li.
07 | Reunion
Original air date: November 14, 2014
Written by: Michael Dante DiMartino
Directed by: Colin Heck
Production number: 407
Summary:
Korra returns to Republic City with the airbenders and reunites with Tenzin. After informing him of what happened in Zaofu, she meets up with Asami and Mako for the first time in three years, though their reunion is crashed by Prince Wu and tension runs high among them. When Wu is kidnapped by supporters of Kuvira, Team Avatar tracks him to Central City Station and rescue him. To protect him from further kidnapping attempts, Wu is left at Asami's residence to stay with Mako's extended family. Meanwhile, Bolin and Varrick team up with a group of fugitive firebenders and waterbenders to cross the fortified Earth Empire border. Successfully evading arrest by the guards, they reach the shore and are given a lift in gratitude for their help. In the Foggy Swamp, Kuvira's army begins to harvest spirit vines at the banyan-grove tree.
08 | Remembrances
Original air date: November 21, 2014
Written by: Joshua Hamilton, Katie Mattila & Tim Hedrick
Directed by: Michael Dante DiMartino
Production number: 408
Summary:
Team Avatar reminisces about the past several years, thinking back on themselves and their friends. At the Sato estate, Mako recounts his past to Prince Wu, including how he and Korra first met and his complex relationships with both the Avatar and Asami. At Air Temple Island, Korra tells Asami how she was doubting herself and her position as bringer of balance. She felt as though the world no longer needed her as each of her enemies had thrown it out of balance despite her best efforts to maintain order. Asami is aided in her efforts to cheer Korra up by Tenzin, who tells her that the importance of facing never ending conflicts is to learn and grow from them, noting that Korra had done that. Meanwhile, Varrick relays Bolin's story to the Earth Empire fugitives as a mover-scenario in which Nuktuk plays Bolin, who defeated all of Korra's main enemies working together.
09 | Beyond the Wilds
Original air date: November 28, 2014
Written by: Joshua Hamilton
Directed by: Ian Graham
Production number: 409
Summary:
Ryu guides a group of tourists through Republic City's Spirit Wilds, though they are soon captured by the plants. Jinora, having sensed the shift in energy, comes to their help with Korra and Opal. Although they fail to track them down, Korra learns that Kuvira is harvesting vines in the Foggy Swamp. She and Opal leave to inform President Raiko about the situation, while Jinora continues her search. At City Hall, the world leaders debate about the best course of action to take against Kuvira, though their meeting is interrupted by Korra and Opal and later Varrick and Bolin. Together, they alert the leaders about Kuvira's plans and it is decided to strengthen the United Republic's borders. While Team Avatar reunites, Opal and Lin plan to leave the city to rescue their family in Zaofu by themselves. Meanwhile, Jinora warns Korra that she has been taken captive by the spirit vines. In order to save her, Korra and Mako enter the Spirit Wilds, though finding her path to the Spirit World blocked by Zaheer, Korra decides to confront him. Since Kuvira's usurpation of power is not what he had intended for the world, the airbender helps her come to terms with the fate that had befallen her and guides her into the Spirit World, where she successfully reconnects with Raava and rescues the souls of Jinora, Ryu, and the captured tourists. Meanwhile, Asami and Varrick are tasked to work together to find a defense against Kuvira's super weapon and Bolin tries to reconcile with Opal. He ends up joining her and Lin on their secret rescue mission to rescue Suyin and her family.
10 | Operation Beifong
Original air date: December 5, 2014
Written by: Tim Hedrick
Directed by: Melchior Zwyer
Production number: 410
Summary:
Opal, Bolin, and Lin travel to Zaofu, where they run into Toph, who tells them the prisoners have been moved out of the city. Bolin knows where they are and they free them. Zhu Li and Baatar Jr. have been working on a cannon to harness the spirit energy, but Zhu Li tries to sabotage the project. When Kuvira shows up, Zhu Li sabotages the weapon, hoping it would blow up the cannon, though is discovered before her plan is completed. Bolin and Opal save her while the rest of the Beifongs fight Kuvira's army. Meanwhile, in Republic City, Raiko is less than pleased with Varrick's reluctance to use spirit vines as weapons. Korra opts to ask the spirits to help defend the city against Kuvira, but they refuse, saying that they do not want to get involved in human wars.
11 | Kuvira's Gambit
Original air date: December 12, 2014
Written by: Joshua Hamilton
Directed by: Colin Heck
Production number: 411
Summary:
Kuvira announces to her followers the plan to reclaim the United Republic of Nations, telling them it rightfully belongs to the Earth Empire, and after that, she talks with Baatar Jr. about their wedding and love. Bolin, the Beifongs, and Zhu Li reach Republic City, where the latter alerts Team Avatar and President Raiko of their attack plans; they thus move to prepare the city from Kuvira's attack, evacuating citizens and mobilizing the United Forces. Zhu Li tries to make up with Varrick, but leaves disgusted when he still treats her as an assistant. When Team Avatar goes to ambush Kuvira's spirit energy cannon, they discover it is mounted on a giant mecha suit controlled by Kuvira and barely escape attack. Team Avatar races back to tell Republic City of the imminent threat, but Kuvira arrives mere hours later. After seeing Kuvira show how powerful her weapon can be, Raiko surrenders. As Baatar Jr. is on the way to discuss the terms of the surrender, Korra and Tenzin's family kidnap him in order to get him to reveal how to defeat her superweapon. After Korra and Suyin unsuccessfully try to convince him, Korra threatens to never let him see Kuvira again, which causes him to break. Baatar Jr. radios Kuvira and asks her to back away from the United Republic. She appears to oblige over the radio, but actually tracks the signal and promptly fires her cannon at Team Avatar's location, destroying the facility.
12 | Day of the Colossus
Original air date: December 19, 2014
Written by: Tim Hedrick
Directed by: Ian Graham
Production number: 412
Summary:
Team Avatar narrowly escapes from the destroyed Future Industries factory and devises a plan to take down Kuvira's giant mecha suit. The benders try to slow the suit down, but they are unable to overcome its sheer power. Varrick tries to use an electromagnetic pulse to disable the giant mecha, but is unable to do so, only taking out one battalion of smaller mecha suits. Hiroshi Sato is temporarily released from prison to aid Asami, Varrick, and Zhu Li in engineering the hummingbird suits for use in combat. During this time, Hiroshi and Asami bury the hatchet, and Varrick successfully proposes to Zhu Li. Baatar Jr. reveals a way to disable the giant mecha and the team comes up with a plan to infiltrate the suit. Using a powerful saw rigged to the hummingbird suit, Hiroshi and Asami successfully cut a hole in Kuvira's mecha suit, allowing Korra, Mako, Bolin, Lin, and Suyin to enter; Hiroshi, however, is killed in the process.
13 | The Last Stand
Original air date: December 19, 2014
Written by: Michael Dante DiMartino
Directed by: Melchior Zwyer
Production number: 413
Summary:
Korra, Mako, Bolin, Lin, and Suyin have infiltrated the giant mecha suit to destroy it from the inside and split up, with Korra deciding to take on Kuvira directly, Mako and Bolin targeting the weapon's core, and the Beifongs going to disable the cannon. Lin and Suyin destroy the cannon's loading mechanism, rendering it useless. Kuvira rips off the arm with the spirit cannon with Suyin and Lin still inside and tosses it into the Spirit Wilds. Korra subsequently enters the mecha's cockpit and battles Kuvira, the two evenly matched. Mako and Bolin travel to the spirit vine core, where Mako nearly sacrifices himself to take out the core with lightning, but Bolin manages to save him. With the core unstable, the mecha suit explodes, blasting the cockpit into the Spirit Wilds. Upon leaving the wreckage, Korra tries to force Kuvira to surrender, but Kuvira manages to flee. Korra gives chase, where she finds Kuvira aiming the loose spirit energy cannon at her. Kuvira fires at Korra, but loses control of it, is unable to shut it off, and is flung off. The cannon nearly blasts her before Korra puts herself in the middle and energybends the beam around the two of them. This massive amount of spirit energy tears open a new spirit portal, warping Korra and Kuvira to the Spirit World, where Korra speaks with Kuvira and manages to emotionally relate with her, convincing her to stop the battle. Upon exiting, Kuvira tells her army to step down as she is taken away in handcuffs by Lin and Suyin. Korra shares a group hug with Bolin, Mako, the airbenders, Varrick, and Zhu Li as spirits return to Republic City. Sometime afterward, Varrick and Zhu Li get married at Air Temple Island with Bolin presiding. At the reception, Wu reveals his plan to abolish the monarchy to Korra and Mako. Korra and Mako reaffirm their friendship. Away from the dance floor, Korra and Tenzin talk at length about her growth before Tenzin runs away after Asami mentions that Varrick wishes to borrow a glider suit. Sitting with Asami, Korra apologizes for her long absence while Asami says that she is just happy to see her alive and cares deeply for Korra. Asami mentions she needs a vacation and suggests the Spirit World as a destination. Korra and Asami walk alone to the newly created spirit portal, holding hands as they cross over into the Spirit World.
Book Four was released on DVD and Blu-ray on March 10, 2015.
| Volume title | Episodes | Release date |
| --- | --- | --- |
| Book Four: Balance (DVD) | All episodes of Book Four | March 10, 2015 |
| Book Four: Balance (Blu-ray) | All episodes of Book Four | March 10, 2015 |
Trivia
Book Four is the only book of The Legend of Korra to not have its first two episodes premiere together.
Book Four was released less than two months after the finale of Book Three: Change, the shortest hiatus between consecutive books in the Avatar franchise.
During production, the budget for Book Four was cut by the near equivalent of a full episode, forcing the creators to make the eighth episode, "Remembrances", a flashback episode with minimal new content in lieu of firing crew members several weeks early.[1]
Book Four is the only book of The Legend of Korra not to feature a waterbending antagonist.
References
See also