Newest release
Katara and the Pirate's Silver is a standalone graphic novel set in the Avatar universe during the events of Book Two: Earth that follows Katara as she gets separated from the rest of Team Avatar. The graphic novel is written by Faith Erin Hicks in collaboration with Tim Hedrick, with art by Peter Wartman. It was released on October 13, 2020.
It's sink or swim for Katara! When Team Avatar is suddenly ambushed by the Fire Nation, Katara gets separated from the group. Unable to rendezvous with Aang, Toph, and Sokka, Katara must avoid capture by aligning herself with some unlikely allies! The normally sweet and sensitive Katara will need to explore her tougher side if she's going to reunite with the rest of Team Avatar...
Featured article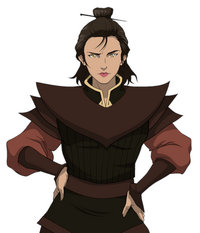 Rangi was the only child of Junsik and Hei-Ran, Avatar Kuruk's former firebending teacher. Born into an illustrious Fire Nation noble family that had taught members of the Fire Nation Royal Family firebending for generations, Rangi was rigorously trained as a Fire Nation soldier and eventually appointed as a bodyguard to Yun, the falsely identified Earth Kingdom Avatar. She became close friends with him and Kyoshi, who was his servant at that time. After Kyoshi's identity as the true Avatar was revealed, Rangi fled with her into the inner Earth Kingdom, where they joined the Flying Opera Company, and Rangi began to train Kyoshi in the art of firebending. In 296 BG, the two began a romantic relationship with each other, though they parted ways in order for Rangi to save her mother from a lethal poison.
Want to help out?
The Avatar Wiki is never complete and could always still be improved upon. Unsure where and how to start? Don't hesitate to ask your fellow editor or an administrator or check out the community to-do list:

Before starting to edit, make sure to give our Avatar Wiki:Manual of Style and our Avatar Wiki:S.O.S. editing guide a lookover.
Latest news and opinion
Blogs

Minnichi
•
4
Hello Avatar Wiki! This is Minnichi, your Editor-in-chief returning to power to inform you that The Zaofu Crush has unfortunately been discontinued. W…
Welcome to the debut of The Zaofu Crush, Avatar Wiki's official community newsletter under Interim Editors AvatarRokusGhost and Bomochu!

Minnichi
•
9
Happy Mid-Apocalypse Valentine's Day, Avatar Wiki! We haven't quite cleared COVID out of our daily lives yet, but we can sure express our love withou…
See more >