Newest release
The Shadow of Kyoshi, published on July 21, 2020, is the second novel in the two-part series written by F. C. Yee chronicling the life of Avatar Kyoshi.
Kyoshi's place as the true Avatar has finally been cemented—but at a heavy cost. With her mentors gone, Kyoshi voyages across the Four Nations, struggling to keep the peace. But while her reputation grows, a mysterious threat emerges from the Spirit World. To stop it, Kyoshi, Rangi, and their reluctant allies must join forces before the Four Nations are destroyed irreparably. This thrilling follow-up continues Kyoshi's journey from a girl of humble origins to the merciless pursuer of justice still feared and admired centuries after becoming the Avatar.
Featured article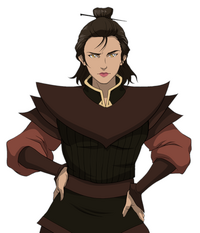 Rangi was the only child of Junsik and Hei-Ran, Avatar Kuruk's former firebending teacher. Born into an illustrious Fire Nation noble family that had taught members of the Fire Nation Royal Family firebending for generations, Rangi was rigorously trained as a Fire Nation soldier and eventually appointed as a bodyguard to Yun, the falsely identified Earth Kingdom Avatar. She became close friends with him and Kyoshi, who was his servant at that time. After Kyoshi's identity as the true Avatar was revealed, Rangi fled with her into the inner Earth Kingdom, where they joined the Flying Opera Company, and Rangi began to train Kyoshi in the art of firebending. In 296 BG, the two began a romantic relationship with each other, though they parted ways in order for Rangi to save her mother from a lethal poison.
Want to help out?
The Avatar Wiki is never complete and could always still be improved upon. Unsure where and how to start? Don't hesitate to ask your fellow editor or an administrator or check out the community to-do list:

Before starting to edit, make sure to give our Avatar Wiki:Manual of Style and our Avatar Wiki:S.O.S. editing guide a lookover.
Latest news and opinion
Create blog post
Blogs
Come celebrate the revival of the Avatar fandom! With the series re-release on Netflix our community is BACK and on fire, baby! The Ba Sing Se Times …

Read more >

Welcome, everyone, to the fifth edition of the Avatar Wiki User Awards! It is my great honour and pleasure to host the awards this year, and I hope t…

Read more >


All three books of Avatar: The Last Airbender are available to watch now on Netflix US from May 15, 2020.

To celebrate this, Netflix streamed a "Countdo…

Read more >
See more >
Community content is available under
CC-BY-SA
unless otherwise noted.