Newest release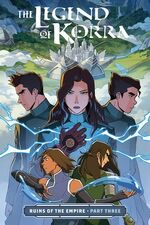 Ruins of the Empire Part Three, published on February 25, 2020, is the third and final installment of the Ruins of the Empire trilogy.
Kuvira's true nature is revealed, and the Earth Kingdom will feel the consequences!
Thanks to Commander Guan and Doctor Sheng's brainwashing technology, all hope for a fair election in the Earth Kingdom is lost. Korra works with Toph, Suyin, and Kuvira to plan a means to rescue not just the brainwashed Mako, Bolin, and Asami, but everyone else caught up in Guan's plan! With the Earth Empire potentially on the rise again, Kuvira pulls another trick from her sleeve ... but whose side is she truly on?
Featured article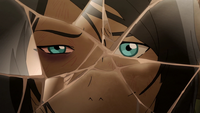 "Korra Alone" is the second episode of Book Four: Balance of The Legend of Korra and the 41st of the overall series. It was released online on Nick.com and through the Nick app on October 10, 2014, and aired on Nicktoons Network on November 28, 2014.
As Korra is haunted by a shadow of herself in the Avatar State, she reminisces about the hardships she has endured the past three years. In 171 AG, after being poisoned by the Red Lotus, she retreated to the Southern Water Tribe in an attempt to heal her body and her mind. Although she was able to recover physically after two years with Katara's help, Korra continued to have visions about Zaheer and the attempt on her life. In 173 AG, she set out on a journey across the world in an unsuccessful attempt to reconnect with Raava. In the present, 174 AG, while wandering through a small Earth Kingdom town, she decides to confront the vision of herself in a duel and loses. When a small dog begs her to follow it, she finds herself in the Foggy Swamp. After another confrontation with her Avatar self, she passes out and wakes up in the home of Toph.
Want to help out?
The Avatar Wiki is never complete and could always still be improved upon. Unsure where and how to start? Don't hesitate to ask your fellow editor or an administrator or check out the community to-do list:

Before starting to edit, make sure to give our Avatar Wiki:Manual of Style and our Avatar Wiki:S.O.S. editing guide a lookover.
Latest news and opinion
Create blog post
Blogs

All three books of Avatar: The Last Airbender are available to watch now on Netflix US from May 15, 2020.

To celebrate this, Netflix streamed a "Countdo…

Read more >

Come celebrate the end of the world with The Ba Sing Se Times! It's a total apocalypse today and you won't want to miss a thing. Oh, and you also hav…

Read more >

We're here with your secret valentine submissions and can't wait for you to read them. May all your romantic dreams come true and if not, read the BS…

Read more >
See more >
Community content is available under
CC-BY-SA
unless otherwise noted.