Welcome to the Fanon Portal of Avatar Wiki!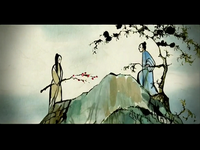 Oma's father Omu ruled Lan City as an entitled noble similar to the Chou brothers until Wan became the bridge between the worlds and led the spirits away from the human world. The Lion Turtles declared that they would no longer grant the elements to humans who left their cities on the turtles' backs in order to build civilizations of their own. Unfortunately, the denizens of Lan City are far from an era of peace.
Omu hoarded most of the resources to himself and believed that he had the right to rule. The lead hunter Zhong would not stand for this, believing that Omu's rule was outdated and that the people who poured their blood and sweat into their civilization had the right to rule. This led to them founding two separate villages on opposite sides of a mountain range. Seven years have passed and Omu and Zhong's desires to rule each other has led to an all out war. Omu's daughter Oma is fed up with her father's customs and runs away while General Shu from Zhong Village is separated from his comrades after a battle. The two meet on the mountain tops and are unaware that this event will not only change their lives but the lives of their fellow villagers as well.



Random fanon

After the death of Avatar Roku, 2 Air Nomads gave birth to 2 children, Avatar Aang, and soon to be Emperor Neyo. Shortly after their birth, the monks of the Southern Air Temple took them away and have began to run experiments. They knew about the Fire Nation's growing aggression, so they created a formula. They know about the existence of Raava, the Avatar Spirit. They extracted a part of Raava into Neyo, hoping that Neyo will also have the power of the 4 elements, and aid Aang in his quest to end the anticipated war caused by the Fire Nation. Read more!>

---

Randomize: There are currently 45 active stories on the wiki!




Whether you're new to the world of fanfiction, or just new to our version of it, the best place to start is by reading. The second best place to start is by taking a look at our handy guide to creating your own fanon! It covers all the things you need to know, such as basic wiki-markup (for your formatting needs); creating the main- and sub-pages for chapters, characters, and locations; and what to do once you've released it into the wild.

Latest Blogs about Fanon

SkyGuy

•

I'm writing this blog post to let readers of my fanon, , know that it's going on …
For other recent fanon activity, check out this page! It's up-to-date with all the latest reviews, interviews, and contests!