Welcome to the Fanon Portal of Avatar Wiki!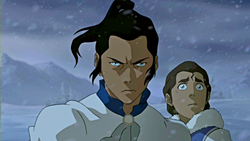 Yakone was the leader of the Red Monsoons until he lost his bending to Avatar Aang. Afterward, he adopted the name Kesuk and moved to a remote village in the Northern Water Tribe to start a new life and married a woman named Ila. They had two children named Noatak and Tarrlok.
This story follows the lives of Noatak and Tarrlok as they struggle to escape from their father's shadow of corruption. Noatak grows to believe that the world would be better off without benders while Tarrlok wishes to rid the world of all crime by means of political power. Though they spend decades apart from each other their destinies are intertwined.
Random fanon

The Earth Empire shattered, but 20 years after, society marches on. It's the age of space and spirits, with SSI organizations flowering worldwide to study new worlds, meeting resistance from the Neo-Spiritualists. They claim the SSIs conduct shady experiments on humans and spirits alike, with researchers countering that the NeoS are fanatical terrorists. With Avatar Korra away, preparing for the return of Sozin's Comet, it falls to an unassuming group of young people to discover the truth and follow her example of Balance. Read more!>

---

Randomize: There are currently 25 active stories on the wiki!




Whether you're new to the world of fanfiction, or just new to our version of it, the best place to start is by reading. The second best place to start is by taking a look at our handy guide to creating your own fanon! It covers all the things you need to know, such as basic wiki-markup (for your formatting needs); creating the main- and sub-pages for chapters, characters, and locations; and what to do once you've released it into the wild.

Latest Blogs about Fanon

Minnichi

•

Happy New Year, Avatar Wiki! To make it even happier, we're kicking off 2021 with…

I've been looking at Fanons and found tons of TLoK stuff.I want an opinion about …
For other recent fanon activity, check out this page! It's up-to-date with all the latest reviews, interviews, and contests!
Community content is available under
CC-BY-SA
unless otherwise noted.