Newest release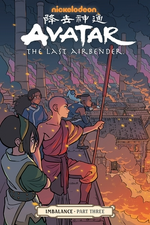 Imbalance Part Three, published on October 1, 2019, is the third and final installment of the Imbalance graphic novel trilogy.
Team Avatar faces their most dangerous foe yet as the bender vs. non-bender conflict turns into an all-out war in this action-packed conclusion to the Imbalance arc!
While Aang grapples with a life-changing decision that only he can make as the Avatar, Toph and Katara implore him–from opposite sides–to choose a path. Meanwhile, Ru and Yaling concoct a fiery ploy to get their mother back. The bender vs. non-bender conflict finally reaches a powerful boiling point, and for better or for worse, Cranefish Town will never be the same!
Featured article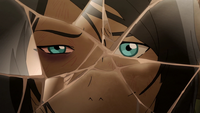 "Korra Alone" is the second episode of Book Four: Balance of The Legend of Korra and the 41st of the overall series. It was released online on Nick.com and through the Nick app on October 10, 2014, and aired on Nicktoons Network on November 28, 2014.
As Korra is haunted by a shadow of herself in the Avatar State, she reminisces about the hardships she has endured the past three years. In 171 AG, after being poisoned by the Red Lotus, she retreated to the Southern Water Tribe in an attempt to heal her body and her mind. Although she was able to recover physically after two years with Katara's help, Korra continued to have visions about Zaheer and the attempt on her life. In 173 AG, she set out on a journey across the world in an unsuccessful attempt to reconnect with Raava. In the present, 174 AG, while wandering through a small Earth Kingdom town, she decides to confront the vision of herself in a duel and loses. When a small dog begs her to follow it, she finds herself in the Foggy Swamp. After another confrontation with her Avatar self, she passes out and wakes up in the home of Toph.
Latest news and opinion
Create blog post
Blogs
Hi, y'all.

As we all know, Bryan and Mike are now helming a new, live-action adaptation of Avatar: The Last Airbender.

Read more >

Happy New Year, Avatar Wiki! 2019 holds lots of surprises for this franchise, so have a cookie. Dance with someone!

Read more >


Well everybody, another year is at it end. Although 2018's felt a bit like three years, hasn't it? As the year draws to a close I'd like to keep up …


Read more >
See more >
Community content is available under
CC-BY-SA
unless otherwise noted.