"I've spent a lot of time on the Avatar fan wiki. It's extraordinary. You could live there for a year and never come out again. There's so much hard work put into that."

— Janet Varney, voice of Korra, about her experience reading the Avatar Wiki while preparing to host a podcast.
Newest release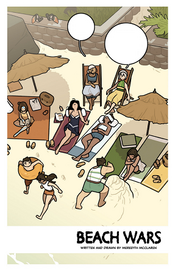 Beach Wars is a comic short written and drawn by Meredith McClaren. It was released by Dark Horse Comics on May 7, 2022 as a part of Free Comic Book Day.
Korra, Asami, and the rest of Team Avatar are having a nice, relaxing day at the beach ... until Katara and Toph incite an all-out prank war.
Featured article
The Fire Army, also known as the Fire Nation Army, is the land warfare service branch of the military of the Fire Nation. Considered the most powerful army of the world for a significant part of its history, the Fire Army is a standing force loyal to the Fire Lords. As a result, it played a major part in keeping the Fire Nation's noble clans in check when they still maintained private militias, and was also crucial in many wars fought by the Fire Nation, most importantly the Hundred Year War, when the Fire Army overran large parts of the Earth Kingdom and took part in the Air Nomad Genocide. The Fire Army is traditionally comprised of firebending as well as nonbending soldiers who operate as infantry, cavalry, and artillery. For much of its history, the Fire Army included male and female soldiers, though the latter became a small minority at some point after the 3rd century BG. The Fire Army traditionally emphasizes hard training, esprit de corps, aggressive strategies, and up-to-date technologies, making it capable of almost any military ground operation.
Want to help out?
The Avatar Wiki is never complete and could always still be improved upon. Unsure where and how to start? Don't hesitate to ask your fellow editor or an administrator or check out the community to-do list:

Before starting to edit, make sure to give our Avatar Wiki:Manual of Style and our Avatar Wiki:S.O.S. editing guide a lookover.
Upcoming releases
Weekly
2022
2023
TBA
Latest news and opinion
Blogs
This list has been compiled entirely in good faith and to the best of our ability. If there is someone you feel has accidentally been excluded from t…
Right now, AMJ has decided to only release one poll/discussion per week on Fridays. But that doesn't mean I can't plan out my next move on a personal…
See more >