Newest release
Ruins of the Empire Part Two, published on November 12, 2019, is the second installment of the Ruins of the Empire trilogy.
What will it take to stop a war?
King Wu's dreams of peacefully transitioning the Earth Kingdom into a democracy are in danger when Commander Guan throws his political hat in the ring, hoping to subvert the new system from the inside out. But playing fair was never part of his plan; Guan and Dr. Sheng are using terrifying new technology to cement Guan's win! In a desperate attempt to save the Earth Kingdom from falling back into the dark days of conquest and empire, Korra and Kuvira convince an old friend to return and take the former commander on in the polls. But will it be enough?
Featured article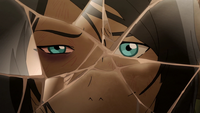 "Korra Alone" is the second episode of Book Four: Balance of The Legend of Korra and the 41st of the overall series. It was released online on Nick.com and through the Nick app on October 10, 2014, and aired on Nicktoons Network on November 28, 2014.
As Korra is haunted by a shadow of herself in the Avatar State, she reminisces about the hardships she has endured the past three years. In 171 AG, after being poisoned by the Red Lotus, she retreated to the Southern Water Tribe in an attempt to heal her body and her mind. Although she was able to recover physically after two years with Katara's help, Korra continued to have visions about Zaheer and the attempt on her life. In 173 AG, she set out on a journey across the world in an unsuccessful attempt to reconnect with Raava. In the present, 174 AG, while wandering through a small Earth Kingdom town, she decides to confront the vision of herself in a duel and loses. When a small dog begs her to follow it, she finds herself in the Foggy Swamp. After another confrontation with her Avatar self, she passes out and wakes up in the home of Toph.
Latest news and opinion
Create blog post
Blogs
Send a secret valentine before it's too late! Your love will be featured in the BSST's February-exclusive issue, and we guarantee it'll be oogie-rifi…

Read more >

Merry Christmas, Avatar Wiki! And if you don't celebrate Christmas, then Happy Holidays to you! Either way, get your Holiday spirit on and join the p…

Read more >





"It's alive! Mwuhahaha!..."



Yes folks, you heard it right! The Ba Sing Se Times will be making a return just in time for Halloween! But we need your he…

Read more >
See more >
Community content is available under
CC-BY-SA
unless otherwise noted.