Newest release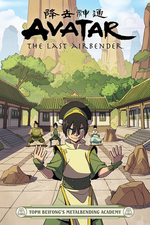 Toph Beifong's Metalbending Academy is a standalone graphic novel set in the Avatar universe after the events of The Rift Part Three. The graphic novel is written by Faith Erin Hicks in collaboration with series writer Tim Hendrick and illustrated by Peter Wartman and Adele Matera. It was released on February 16, 2021.
For some, perfection just isn't enough.
Things are looking bright at the Beifong Metalbending Academy! But after all the adventures Toph's had with Aang, Sokka, Zuko, and Katara, the whole thing feels a bit dull. Luckily, Sokka and Suki come to visit and reintroduce some familiar faces from their wandering days. And while out and about to celebrate, Toph discovers something that just might put the sparkle back in her eye...
Featured article
Jianzhu was an Earth Kingdom sage, earthbending master, and one of the world's leading politicians during the late 4th and early 3rd century BG. At the peak of his power, he was the de facto ruler of most of the Earth Kingdom, though his power was constantly challenged by political rivals.
Having been Avatar Kuruk's close friend and later earthbending teacher, Jianzhu felt responsible for his friend's premature death due to his lack of guidance. In addition, the search for Kuruk's successor proved futile for several years, while the world increasingly descended into chaos. Fueled by guilt and a desire to restore what he regarded as balance, Jianzhu stepped in and assumed many traditional duties of the Avatar. With the aid of his old friend Kelsang, he forged a large network of allies and destroyed many rebel and bandit groups that had grown in power. Over time, his methods to maintain balance became more and more extreme to the point where he was willing to sacrifice anyone to achieve his goals. Eventually, Jianzhu identified a boy named Yun as Avatar and began to rigorously train him.
This endeavor proved futile, however, as Yun was eventually proven to be a regular earthbender, whereas a servant girl named Kyoshi was the true Avatar. In a desperate attempt to gain control of Kyoshi and train her to become the perfect Avatar, Jianzhu sacrificed his pupil Yun and murdered his friend Kelsang. When she escaped, Jianzhu mobilized all his resources to hunt her down. In the process, he murdered both a large number of leading Earth Kingdom sages as well as Kyoshi's friend Lek. Jianzhu finally met his end when he confronted and dueled Kyoshi, but was interrupted and killed by a returned Yun.
Want to help out?
The Avatar Wiki is never complete and could always still be improved upon. Unsure where and how to start? Don't hesitate to ask your fellow editor or an administrator or check out the community to-do list:

Before starting to edit, make sure to give our Avatar Wiki:Manual of Style and our Avatar Wiki:S.O.S. editing guide a lookover.
Latest news and opinion
Blogs
Welcome to the debut of The Zaofu Crush, Avatar Wiki's official community newsletter under Interim Editors AvatarRokusGhost and Bomochu!

Minnichi
•
Happy Mid-Apocalypse Valentine's Day, Avatar Wiki! We haven't quite cleared COVID out of our daily lives yet, but we can sure express our love withou…

Minnichi
•
Send a secret valentine before it's too late! Your love will be featured in the BSST's February-exclusive issue, and we guarantee it'll be oogie-rifi…
See more >
Community content is available under
CC-BY-SA
unless otherwise noted.