"I've spent a lot of time on the Avatar fan wiki. It's extraordinary. You could live there for a year and never come out again. There's so much hard work put into that."

— Janet Varney, voice of Korra, about her experience reading the Avatar Wiki while preparing to host a podcast.
Newest release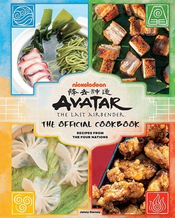 "Avatar: The Last Airbender Cookbook: Official Recipes from the Four Nations" is a book based on Avatar: The Last Airbender created by Chef Jenny Dorsey, which collects recipes for signature dishes in the world of Avatar. It was released by Insight Editions on November 23, 2021. The book is written in an in-universe style, with characters such as Iroh, Katara, Azula, and the cabbage merchant presenting and commenting on the recipes. The book was written in collaboration with Avatar Studios.
Feast on delicacies unique to the Earth Kingdom, Water Tribe, Air Nomads, and the Fire Nation with the official Avatar: The Last Airbender Cookbook.
From the shores of Kyoshi Island to the crowded streets of Ba Sing Se, this official cookbook collects signature dishes from all four nations, like vegetarian plates of the Air Nomads, fiery entrees from the Fire Nation, seafood from the North and South Poles, and delectable cuisine from the Earth Kingdom.
Featuring enticing color photography, step-by-step instructions, and tips for adapting dishes to specific diets, this book includes sixty authentic food and beverage recipes inspired by the beloved series. Enjoy this diverse compendium of delicacies from the world of Avatar: The Last Airbender.
Featured article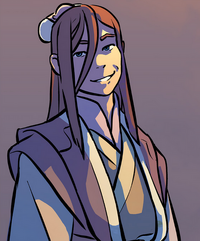 Liling was a businesswoman, earthbender, and bending supremacist. Originally hailing from the northwestern Earth Kingdom, she relocated to Ba Sing Se due to the Hundred Year War. Following the conflict's end, Liling returned to her home area with her daughters, Ru and Yaling, and consequently became one of the leading factory owners in the newly founded Cranefish Town.
Though a member of the Cranefish Town Business Council and a public advocate for peace and security in the town, Liling secretly harbored deep resentment toward nonbenders. Believing in the supremacy of benders and feeling threatened by the new machines that made bending obsolete, she covertly acted to ruin all nonbender-owned businesses and drive out every nonbender in Cranefish Town.
Want to help out?
The Avatar Wiki is never complete and could always still be improved upon. Unsure where and how to start? Don't hesitate to ask your fellow editor or an administrator or check out the community to-do list:

Before starting to edit, make sure to give our Avatar Wiki:Manual of Style and our Avatar Wiki:S.O.S. editing guide a lookover.
Latest news and opinion
Blogs

Minnichi
•
Happy Holidays, Avatar Wiki! You didn't think we'd forget about Christmas, did you? (Don't answer)

Minnichi
•
Hello Avatar Wiki! This is Minnichi, your Editor-in-chief returning to power to inform you that The Zaofu Crush has unfortunately been discontinued. W…
Welcome to the debut of The Zaofu Crush, Avatar Wiki's official community newsletter under Interim Editors AvatarRokusGhost and Bomochu!
See more >