"I've spent a lot of time on the Avatar fan wiki. It's extraordinary. You could live there for a year and never come out again. There's so much hard work put into that."

— Janet Varney, voice of Korra, about her experience reading the Avatar Wiki while preparing to host a podcast.
Newest release
The Dawn of Yangchen is the third novel in the Chronicles of the Avatar series written by F. C. Yee and the first to focus on the life of Avatar Yangchen. The novel illuminates her journey from uncertain young woman to revered leader. The novel was released on July 19, 2022.
Yangchen's inexperience may prove to be her greatest asset ...
Plagued by the voices of Avatars before her for as long as she can remember, Yangchen has not yet earned the respect felt for Avatar Szeto, her predecessor. In an era where loyalty is bought rather than earned, she has little reason to trust her counsel. When Yangchen travels to Bin-Er in the Earth Kingdom on political business, a chance encounter with an informant named Kavik leads to a wary partnership. Bin-Er is a city ruled by corrupt shang merchants who have become resentful of the mercurial Earth King and his whims. To extract themselves from his influence, the shangs have one solution in mind: a mysterious weapon of mass destruction that would place power squarely in their hands. As Yangchen and Kavik seek to thwart the shangs' plan, their unlikely friendship deepens. But for Yangchen to chart her course as a singularly powerful Avatar, she must learn to rely on her own wisdom above all else.
This propulsive third installment in the Chronicles of the Avatar series illuminates Avatar Yangchen's journey from uncertain young woman to revered leader.
Featured article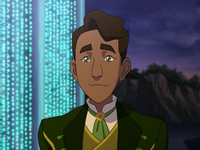 Wu of the Hou-Ting dynasty is the 54th and current sovereign of the Earth Kingdom. Great-nephew of the late Earth Queen Hou-Ting and great-grandson of Earth King Kuei, he was forced to leave the Earth Kingdom due to its instability and sought refuge in Republic City, where he was later crowned in 174 AG. His authority was denounced by Kuvira and her supporters, however, after the former declared herself leader of the newly established "Earth Empire", which prevented him from returning to Ba Sing Se and assuming his role as king. Following the conclusion of the attack on Republic City by Kuvira, Wu resolved to abolish the monarchy in favor of independent states with democratically elected governments akin to the United Republic of Nations.
Want to help out?
The Avatar Wiki is never complete and could always still be improved upon. Unsure where and how to start? Don't hesitate to ask your fellow editor or an administrator or check out the community to-do list:

Before starting to edit, make sure to give our Avatar Wiki:Manual of Style and our Avatar Wiki:S.O.S. editing guide a lookover.
Upcoming releases
Weekly
2022
2023
TBA
Latest news and opinion
Blogs
Zacatero
•
This is the fourth blog post in my series, where I lay out my hot takes in a longer format. My first one, goes in depth into my opinion why I think L…
Minnichi
•
The Avatar Franchise has taken the big screen by storm! Take a look closer and you'll see that our business is FAR from over.
Welcome, everyone, to the seventh edition of the Avatar Wiki User Awards! It is a delight for me to once again be hosting the awards, and I promise t…
See more >