The Avatar Trading Card Game Demo was a promotional tutorial video game created to advertise and explain the Avatar: The Last Airbender TCG to early players.[1] The game is no longer available on the live web, but it has been archived at the Wayback Machine. Unlike many JavaScript-dependent archives at the Wayback Machine, the archive of the demo is perfectly preserved, with all imagery and text remaining operable.
Story
Aang and Katara are sitting beside a fire at night, Sokka having already begun to doze. Unable to sleep, Katara suggests they play a game, the Avatar TCG. Just as they are about to begin, Zuko enters the clearing and tries to attack, but Katara makes him a wager: if he can beat Aang in a game of the TCG, then he may attempt to take them all prisoner. After some coaxing he agrees, and Aang and Zuko begin their battle not of bending, but of card-flipping skills.
Features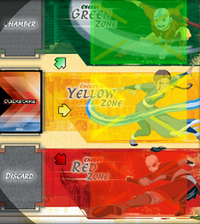 The demo is basically a play-by-play of a game of the TCG, going through most every possible situation in order to clearly explain any circumstance in a clear way understandable to children. Aang and Katara's conversation throughout the game focuses on the usage of cards, card types, abilities, and more, with Zuko's moves often acting as examples. Sokka eventually comes to aid the player by telling where and how to place certain cards in their proper areas of the play mat as well as elaborates on Katara's explanations. The game is divided into chapters that can be skipped whenever the player feels he or she sufficiently understands what is currently being explained. The following is a list of the chapters in order:
Intro
Setup
Zones – Flips – Strikes
Energy
Opening Attack
Defending
Replenish
Cleanup
Advantages/Charging
Signature Moves
Allies
Points and Winning
Trivia
The "How-to-play" of Avatar Wiki's TCG article is heavily based on the plot of this demo.
References
See also
External links