Hello everybody. My ship today is Rangshi. I should warn everybody that I only have two Kyoshi novel ships left after this and they are both pretty minor.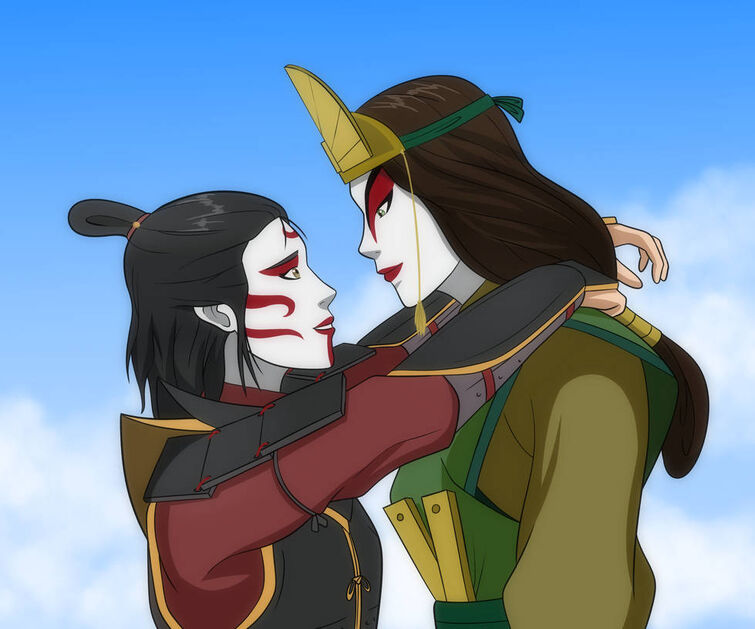 Rangshi is the ship between Kyoshi and Rangi. It is alternatively known as Ranshi, Ranoshi, Rangoshi, and Kyoran.
Kyoshi and Rangi know each other through working for Yun who was thought to be the Avatar at the time. Rangi was one of Yun's bodyguards while Kyoshi was his closest servant. The three of them were close childhood friends. Everybody changed when Jianzhu seemingly sacrificed Yun to a spirit and killed Kelsang. Rangi had trouble believing her story at first but left with her because she did not want Kyoshi to run off on her own. They joined a daofei organization known as the Flying Opera Company which Rangi was hesitant about. She participated in a dangerous le tai in order to show Kyoshi the fear she was constantly putting her through. After talking it out, Kyoshi kissed Rangi, but she pushed her away because that part of her face was bruised and told her to kiss her somewhere she was not hurt.
Kyoshi and Rangi's relationship continued but they were eventually forced to go their separate ways for a while when Rangi's mother Hei-Ran was nearly poisoned to death and needed to be healed. They were reunited in the Fire Nation at the Festival of Szeto. Some drama occurred between them when Yun attacked at the ball and escalated even further when Hei-Ran was nearly killed by him in North Chung-Ling. Rangi stormed out, saying that she was no longer anything to Kyoshi, but brought her some noodles she cooked minutes later. They later fought Yun in a final confrontation and Rangi was stabbed. Kyoshi finally brought herself to kill Yun and used the Avatar State to pull water out of a well and heal Rangi. They later buried Yun on a hill and promised that they would remain together no matter what the future holds.
Rangshi is a ship that I was pretty much on board with right away. I even loved it just from reading the summaries before I actually read the novels. They just compliment each other perfectly and their playful bickering is cute. The biggest question that fans have is about Kyoshi's daughter Koko. I think that Kyoshi did adopt Koko because it makes sense. Kyoshi was abandoned when she was young and nobody wanted anything to do with her until Kelsang found her. Kyoshi would want to give another orphan the same comfort that she received from Kelsang and not want any child to be left on the street. So I'm sure that she ended up with Rangi and that they adopted Koko. Unfortunately, since Kyoshi lived for 230 years, there is a high chance that Kyoshi outlived Rangi.
I welcome all opinions on Rangshi as well as other pairings involving Kyoshi and Rangi but please do keep comments constructive.
Fanart source: